Here, in this article, we are going to discuss 17 types of parakeets that are widely available in The Wild.
Let us know what are the top 17 parrots types widely distributed all over the world as well as available as pets.
17 Types Of Parakeets That Are Good As Pets
Budgerigar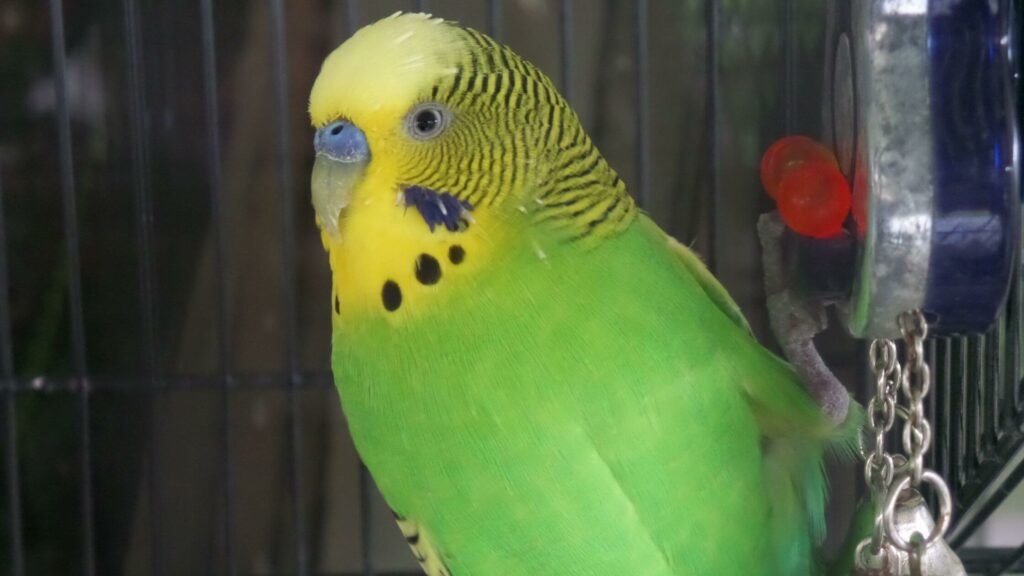 Budgerigars are a kind of parakeet. In addition to being called "budgies," they are frequently described as "shell parakeets" due to their wave-like appearance.
The Budgerigar is an attractive parrot that is native to Australia. When in the wild, Budgerigars can be seen as small yellow and green parrots. They have black bars on top and a tiny area of blue on the cheek. Budgies in the wild eat a range of seeds and fruits, berries, and other plants.

Budgerigars that live in wild areas are typically 7 inches in length, weigh 30-40 grams, and have 12 inches within wingspan. Budgerigars live in open habitats, mostly in open woodlands, shrublands, and grasslands of Australia.
Monk Parakeet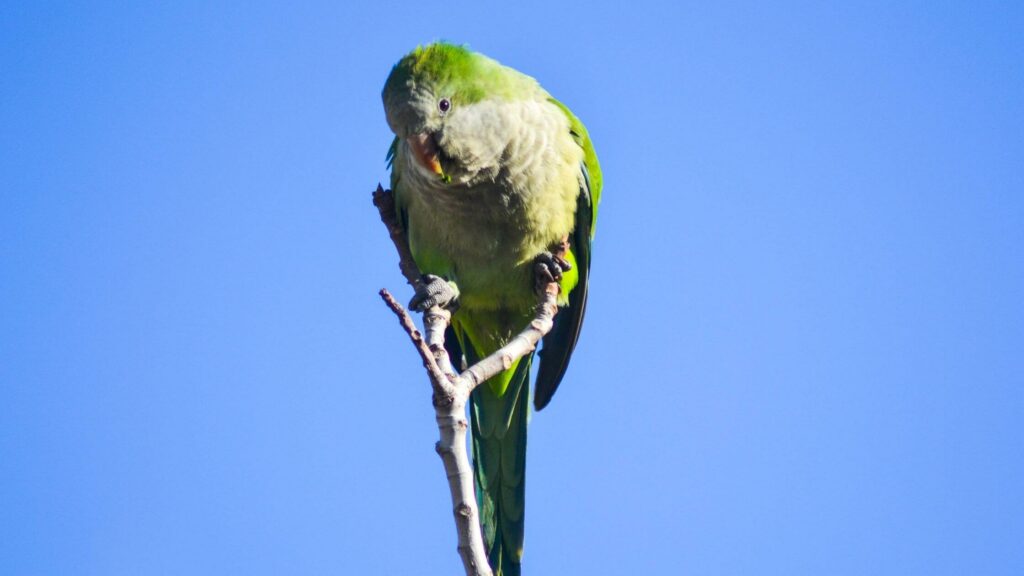 The Monk Parrot (Myiopsitta monachus) is, often referred to as the Quaker parrot, is a species of true parrots belonging to the family Psittacidae.

Monk Parakeets are indigenous to South American grasslands, but if you're seeking these birds within North America, look in cities like New York, Chicago, Portland. Green overall, with gray breast and face.

Small, but with an extended, pointed tail, a big head, and a hooked bill. Wild Quaker parrots feed on various fruits, seeds, nuts, berries, and other vegetation that they eat, such as leaves and flowers. Some feed on insects as well as their larvae.

Monk parakeets are a variety of sizes; however, the median is about 11.4 inches, with the highest being between 19. Monk parakeets, also called Quaker parrots, are located near water sources with large volumes and lowland regions.
Blue Parakeet
The Blue Parakeet is a nomadic bird that moves around Australia in large numbers. Blue parakeets are a white version of budgies with blue mutation. The bird's crown is adorned with fine white feathers.

They eat a diet that must be a mixture of certain vegetables and fruits. Blue parakeets can grow to a similar size as a normal parakeet. They measure around 7 inches tall. They live in the outback, and they are known to build nests in hollow trees instead of making their nests.
Yellow Parakeet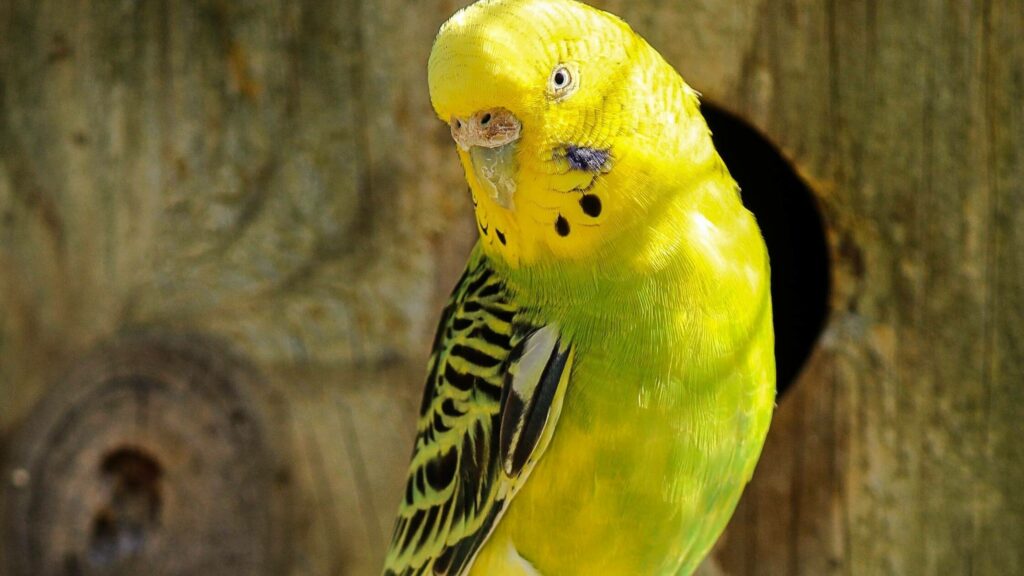 These parakeets come with greenish-yellow body color. They are common in open habitats, mostly in open woodlands, shrublands, and grasslands of Australia.

They can eat bananas and apples, strawberries and oranges, grapes, blueberry, pear, peaches and raisins, mango and Melon, nectarines, and cherries (ensure that you have removed the pits), and Kiwis. A happy parakeet will usually tweak songs and talk or mimic sounds they hear frequently.
Plain Parakeet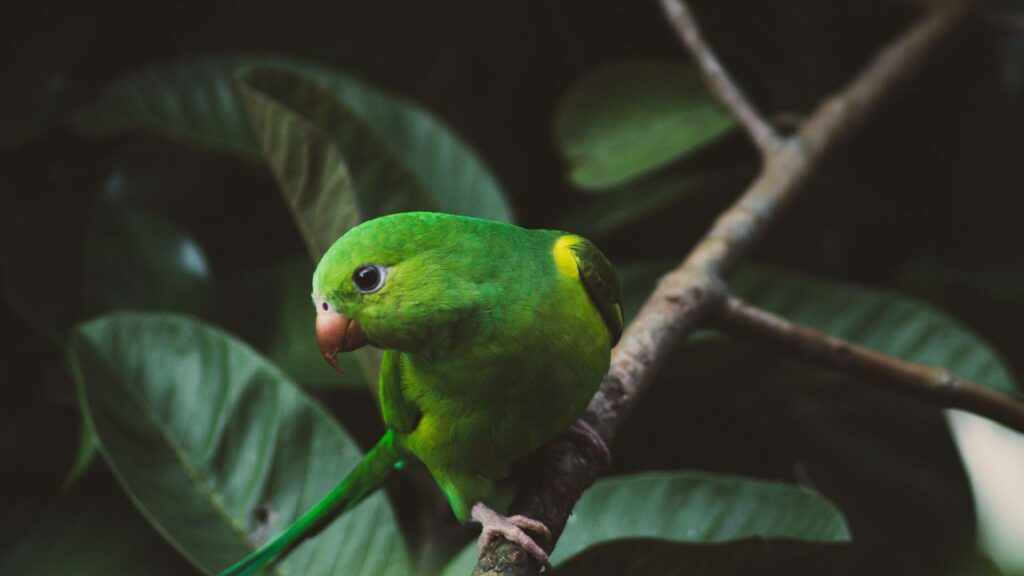 The plain Parakeet is renowned for its plain green appearance throughout. Plain Parakeets originate from South America and are especially frequent in Brazil. The color is bright green, with an elongated grayish ring around the eyes.

They also have their downward-curved beak, usually brownish, pink, or even in hue. Their diet of choice is a premium dry parrot mix, and fresh fruit like apples, pears, bananas, oranges, and similar fruits and yummies should serve as the base.

Its habitats include humid lowland subtropical forests, subtropical or tropical montane forests, and heavily degraded ex forests.
Rose-ringed Parakeet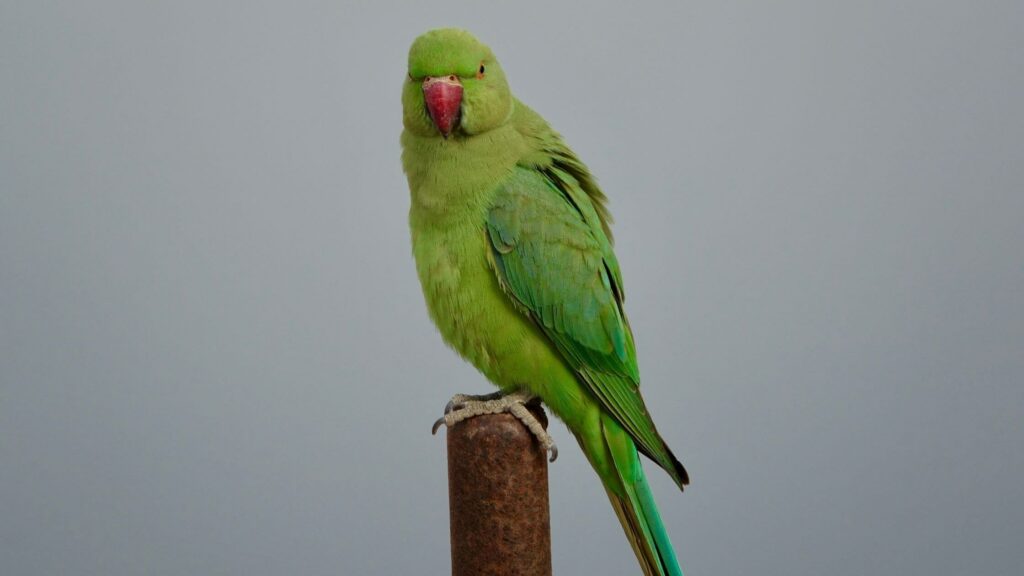 The rose-ringed Parrot is a medium-sized bird that is found in disjunct native ranges across Africa in the continent of Africa and South Asia. The Rose-ringed Parakeet is yellow-green with a graduated tail and a wide hook, rounded and pinkish-red bill.

Wild, these parakeets typically feed on fruits, buds and vegetables, nuts, berries, and seeds. They measure an average of 16 inches in length, including the tail feathers, which comprise a substantial portion of their length.

The rose-ringed Parakeet is prevalent in urban gardens and parks, open fields with palm trees, dense forests, dry and open forests.
Derby Parakeet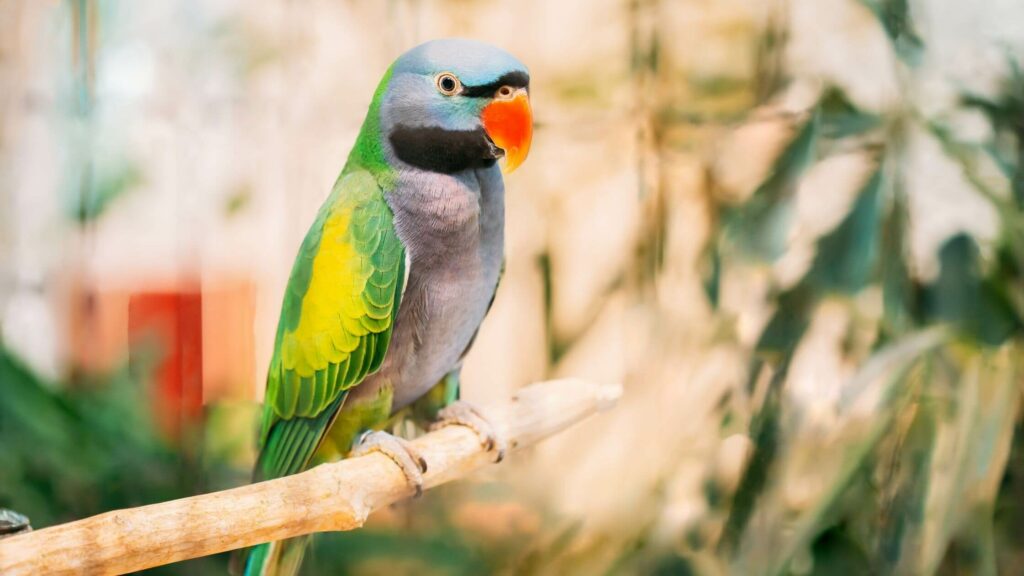 The Derby Parakeet (Psittacula Adriana) is a bird of the mountains that are found in oak and pine forests and alpine rhododendron woodlands. Derby Parakeets are found in the far-off regions located in Southwestern China and the northern areas of India.

The species has wings, legs, and necks that are mostly green with a shimmering blue, which is the color of their chest, head, and belly. The Derby parakeets eat many fruits, seeds, berries, and leaves on their own in the wild.

It is believed that the Derby Parakeet is a big breed, with adults measuring between 18-20 inches. This Derby Parakeet is a bird of the mountains found in oak and pine forests and alpine rhododendron.
Plum-headed Parakeet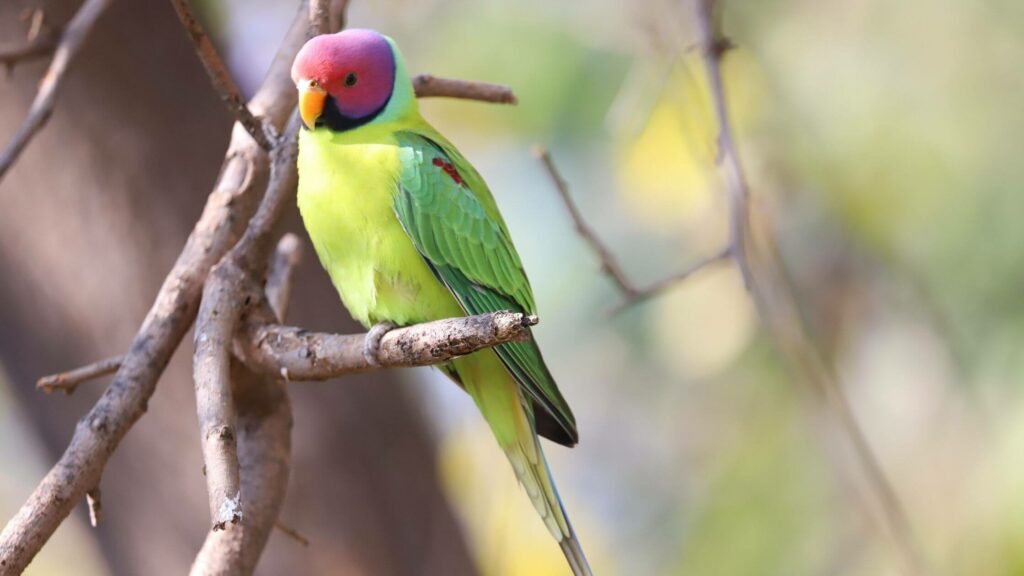 The plum-headed Parakeet is one of the parrot family species native to the Indian Subcontinent. The plum-headed parakeets are found in India, Pakistan, Sri Lanka, and Bangladesh.

This is an attractive, medium-sized bird that is both social and less demanding. They generally eats more fruits than other parrots.

The plum-headed Parakeet is mostly a green Parrot, with a length of 33 cm and an extended tail that can reach 22 centimeters. The plum-headed Parrot is a bird of open woodland and forest and even city gardens.
Brown Parakeet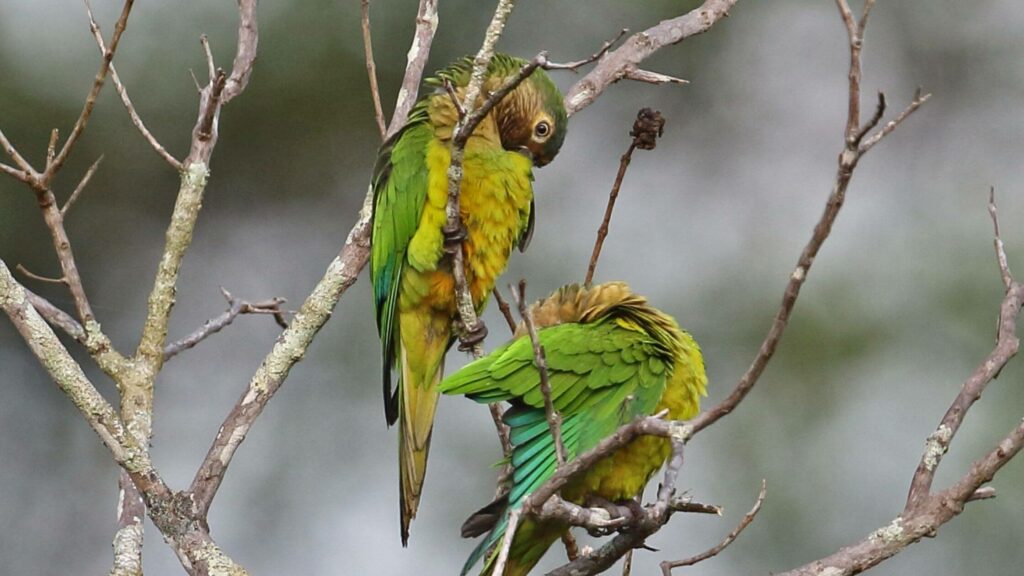 The brown Parakeet is very popular in the aviculture industry. They have a charming temperament and are more peaceful birds. Brown Parakeets are migratory species found in Australia.

A medium-sized Parakeet, the brown one measures between 22 and 23 cm in length. Brown Parakeets consume many seeds and fruits, berries, and even plants. These birds are often located in savannas and scrubby areas.
Anthracite Parakeet
The Anthracite Parakeet variant is a rare mutation found in the Budgerigar
 This mutation in the Anthracite Parakeet is believed to originate from Germany and can be native to the region.
Anthracites sport black or dark gray feathers, with a little white depending on the Budgerigar specifically. Their diet includes vegetables, plants, and seeds.
Blossom-headed Parakeet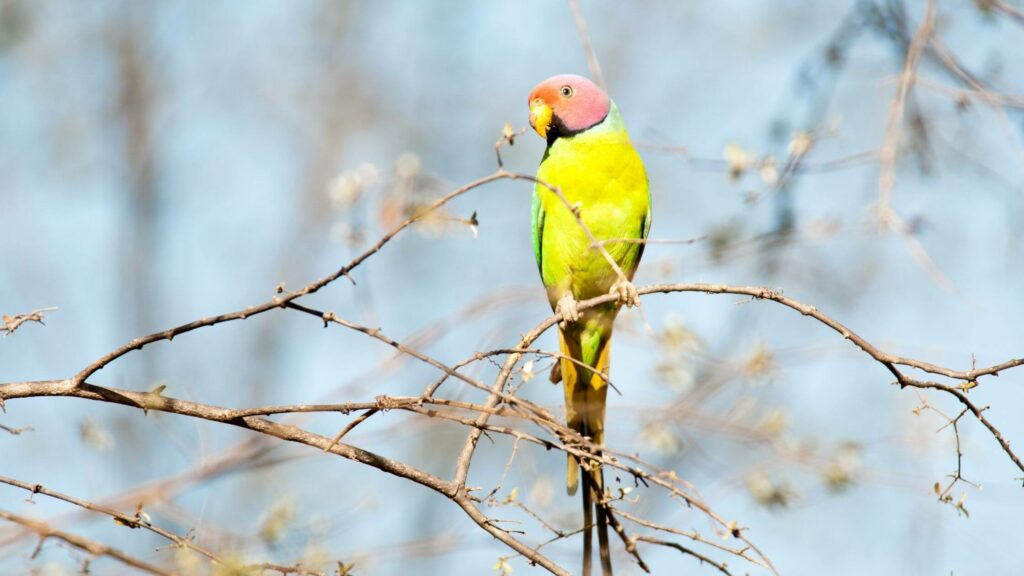 Plum-headed parakeets live in flocks, with males having a pinkish purple head, while females have a grey head. The Parakeet with a blossom is a parrot that is a breeder resident throughout Bhutan, Northeast India, Eastern Bangladesh, and Nepal.

The male's head turns pink before turning pale blue around the nape, crown, and cheeks. Their diet for these flower-headed parakeets is mostly fruits such as nuts, berries, buds, leaves, flowers, seeds, and so on.

This is a green parrot, which measures 30 cm in length and the tail reaches 18 centimeters. Blossom-headed parakeets are birds that live in open woodlands and forests.
Bourke's Parakeet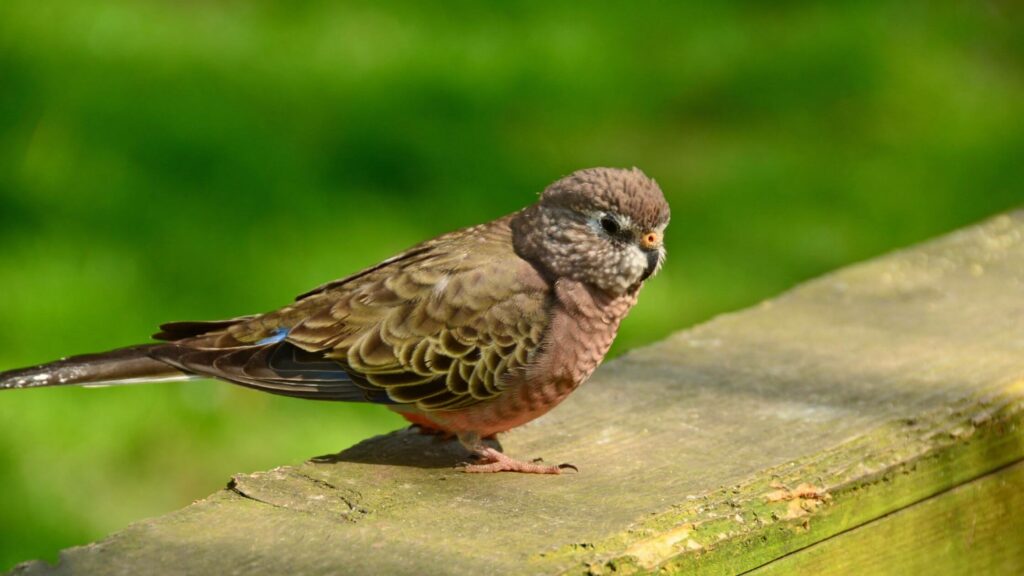 The Bourke's Parrot is often referred to as the blue-vented Parrot, sundown pyro, or pink-bellied Parrot. They are native to Australia. The Bourke's parakeets have an overall brown coloration with a pink stomach, a pink breast, and a blue rump.

Apples, bananas, and carrots have been their preferred food sources. The Bourke's Parrot is 7 and 8 inches when fully grown and weighs 45 grams. The Bourke's parakeet's main habitat consists of areas dominated by Acacia species, specifically the mulga. It is found in dry plains.
Interesting Further Reading
Mustached Parakeets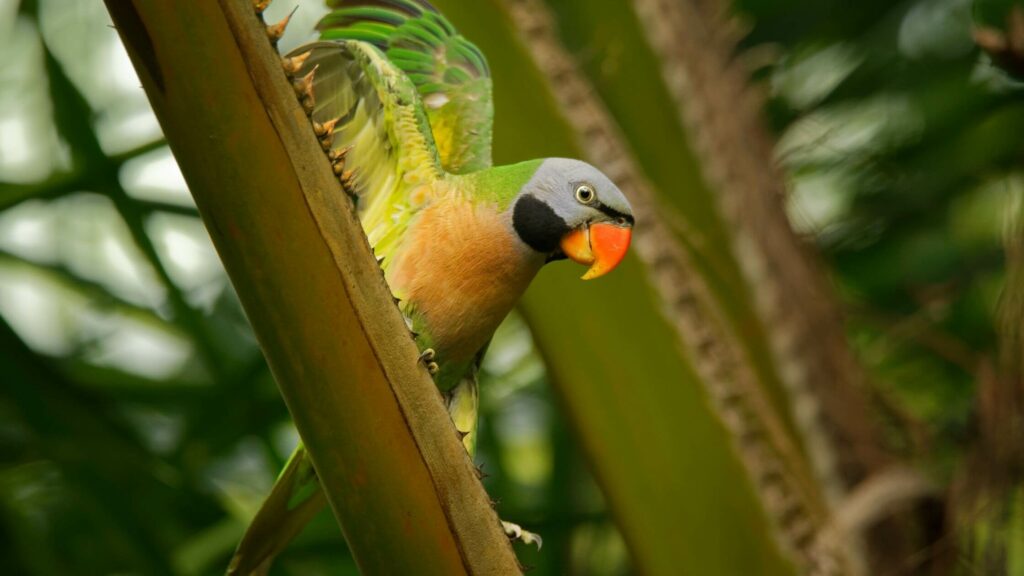 A stunning parrot, The mustached Parrot, is famous for its unique feathers on the beak, which is reminiscent of a well-groomed mustache. The mustached Parakeet can be located throughout China as well as Indonesia.

Its most distinct feature is the mustache-like markings visible on its sides face, which resembles the appearance of a mustache. Moustache's diet includes leaves, berries, seeds, fruits, insects, nuts, and vegetables.

Parakeets thrive on Pellets and raw and fresh fruits. Mustached Parakeets are medium-sized parrots that can reach 13-16 inches and weigh 100-130 grams.
Alexandrine Parakeets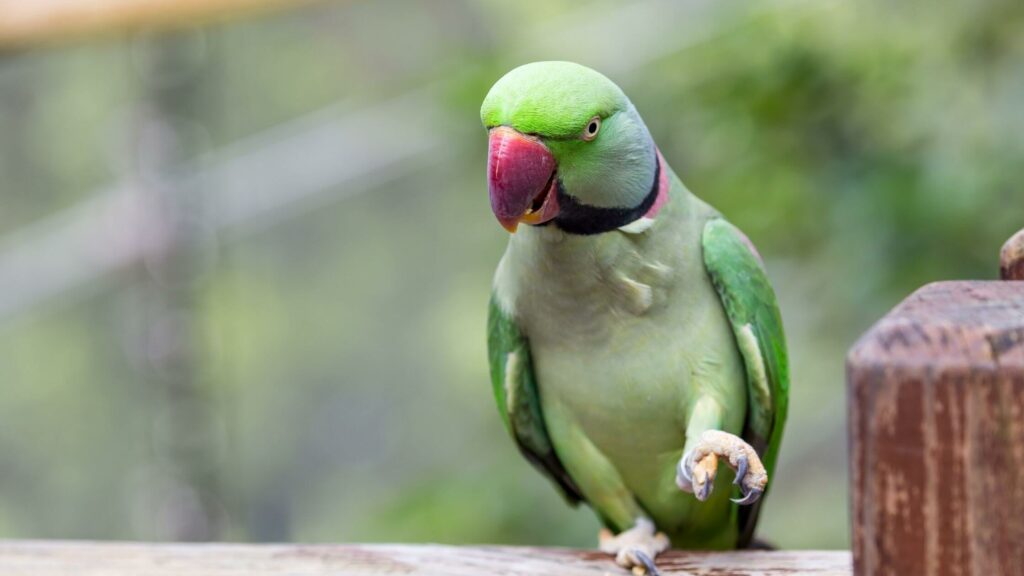 The Alexandrine parakeet sometimes referred to as the Alexandrine parrot, is a vibrant soft, independent, medium-sized bird, which is believed to be hardy. The Alexandrine parrot is found in woodlands, forests, agricultural lands, and mangrove forests up to 3000 feet of elevation.

Alexandrine parrots can be described as medium-sized birds, and their average size is between 22-24 inches. Alexandrine parakeets thrive with a diet that consists of fresh greens, fresh vegetables, and grains.
Regent Parakeet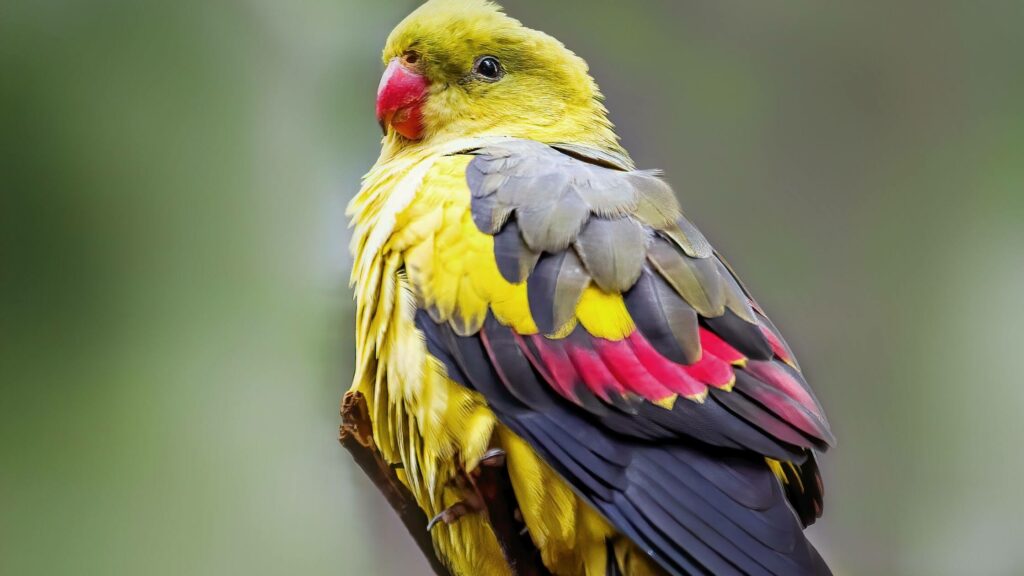 The bird is commonly called the Regent Parakeet or Regent Parrot However, it is also known as"the Rock Pebble. The regent parrot, also known as the rock pebbles, can be described as a bird species found in the southern part of Australia.

They're mostly green, yellow, and deep blue, with a few pops with red in their wings. The Regent Parrot consumes grains of weeds, cereal crops, specifically wheat. The majority of feeding activities are in the dirt, searching for grass seeds.
Slaty-headed Parakeet
A salty-headed bird, Psittacula himalayana, is a medium-sized green mountain bird. A medium-sized parrot with a blueish-gray head, green body, a red bill, and a yellow-tipped tail.

A quality small-sized mix of parrots, with vegetables, fruits, and seeds that have been soaked and consist of milo, mung bean wheat, sunflower, and milo.

The slaty-headed Parakeet is an average-sized bird measuring between 38 and 42 cm in length. Its habitat is hillside/highland forests and valley woodlands.
American Parakeets
The typical American Parakeet can be very active but not as easy to control as the British Budgie. These birds are essentially small – to medium-sized birds.

Parakeets feed on pellets, seeds, fruit, legumes, vegetables, as well as nuts. English Budgies' habitat comprises mainly open grassland, woodlands, and dry scrubs throughout non-coastal Australia.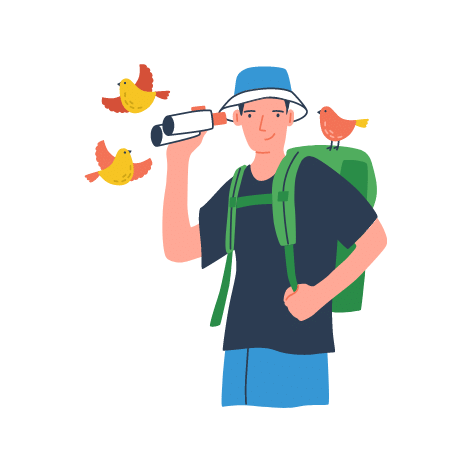 Hi, There and Welcome to BirdsNews.com, is here to help you learn and care about pet birds. and this blog is a journal of everything I've learned.