To enjoy watching Hummingbirds in your garden, offering a healthy feeding station is essential. And for that, using the suitable sweetener, "Morena Pure Cane Sugar," is necessary. Is Morena pure cane sugar OK for hummingbirds?
Morena Pure Cane Sugar is a less refined and more natural version of Sugar. It tastes better than regular white Sugar and contains more natural ingredients from the sugar cane plant. Morena Pure Cane Sugar is GMO certified, minimally processed, and is produced directly from freshly-harvested sugar cane.
Can I use pure cane granulated sugar for hummingbirds?
Bird keepers and enthusiasts should only use pure cane granulated sugar for making Hummingbird nectar. The refining process used in making pure cane granulated sugar removes the iron content from the product, making it safe for the Hummingbirds. 
Whereas on the other hand, turbinado, raw, and organic Sugar aren't safe choices when it comes to bird nectar. Wondering why? All of these sugar types are produced by spinning and evaporating the sugarcane juice in a turbine. It later has golden sugar crystals that are rich in vitamins, minerals, and Iron.
While none of them is essential for Hummingbirds, Iron is even dangerous. Hummingbirds have a significantly lower tolerance level for Iron, and they are susceptible to excess dietary iron buildup in their system.
It can further lead to toxicity in liver cells and make the poor bird suffer. However, the pure cane granulated sugar does not contain any iron content and therefore is safe for Hummingbirds or bird nectar in general. 
difference between Morena Pure Cane Sugar and White Sugar
Morena Pure Cane Sugar is different from White and Brown Sugar in multiple ways. First, the word Morena means light golden tinted Sugar, and its products mean it. 
Here are a few differences between both:
Morena is a non-refined sugar, and therefore it maintains the naturally golden-brown sugar color/ tint. In contrast, White Sugar is highly processed and refined, which removes the natural brown color/ tint from it.
While White Sugar is highly processed, Morena Pure Cane Sugar is minimally processed. 
White Sugar is only sweet, but Morena Sugar has a hint of caramel and some taste that gives it more flavor than sweetness.
Morena Sugar maintains more flavor and nutrients than Sugar cane. In contrast, White Sugar, during extreme refining and processing, loses much of its nutrients and flavors.
White Sugar has smaller crystals, whereas Morena Sugar has larger crystals.
Is it safe to replace Morena Pure Cane Sugar with White Sugar for Hummingbird Nectar?
Yes, it is absolutely safe and even must to use Morena Pure Cane Sugar instead of White Sugar for Hummingbird Nectar.
However, for better taste and nutritional benefits, consider switching to Morena Sugar. It isn't just a healthier option for birds but humans as well. 
6 Best Pure Cane Sugar for Hummingbirds 2022
Zulka Azucar Morena Pure Cane Sugar 1lb
Wholesome Organic Cane Sugar
Wholesome Organic Cane Sugar, Fair Trade, Non GMO & Gluten Free, 2 Pound (Pack of 6)
ORGANIC CANE SUGAR - Certified Organic and made in green cut fields, our cane sugar is naturally sweet and will enhance any dish you put it in
PERFECT SUBSTITUTE - Use as a 1-for-1 replacement for refined white sugar. Perfect in hot or cold beverages and delicious in baked goods
CLEAN, SIMPLE PRODUCTION - Produced from the first crystallization of organic sugar cane juice, with no bleaching or chemicals in the production process
USDA Organic, Non-GMO Project Verified, Fair Trade Certified, Kosher certified, naturally Gluten Free, and Vegan
PACK OF 6 - Comes in Pack of 6 at 2 pounds a bag
Zulka Pure Cane Sugar (Azucar Morena), 2 Pound Bag
Zulka Cane Sugar, 4 Pound
Wholesome Organic Cane Sugar
Wholesome Organic Cane Sugar, Fair Trade, Non GMO & Gluten Free, 10 Pound (Pack of 1) - Packaging May Vary
PREMIUM INGREDIENTS: Wholesome Fair Trade Organic Cane Sugar is the perfectly sweet pure cane sugar for your favorite foods and beverages. Made from fresh organic sugar cane juice that's evaporated and crystalized, our natural blonde-colored sugar crystals maintain a hint of molasses providing a full-bodied taste
SUBSTITUTION AND CONVERSION: Use Wholesome organic cane sugar in place of granulated white sugar to sweeten and add an extra depth of flavor to coffee, cereal, or desserts. Use a 1-for-1 replacement for refined white sugar
CERTIFIABLE QUALITY: At Wholesome, we believe in quality you can taste. Our sweeteners and baking products are sourced and made with care, resulting in rich, full flavor. Wholesome's organic cane sugar is USDA Certified Organic, Non-GMO Project Verified, Kosher Certified, naturally Gluten-free, and Vegan
FAIR TRADE CERTIFIED: For over 20 years we have pioneered Fair Trade standards in organic sugar and supported farming communities around the globe. Fair Trade helps improve living and working conditions, provides educational opportunities, elevates healthcare, and supports improved harvesting and farming equipment
SUSTAINABLE SOURCING: Wholesome's organic cane sugar starts with sugar cane sustainably grown and harvested using methods that work in harmony with the Earth to reduce our impact on the land and environmental footprint wherever we can
Domino Premium Pure Cane Sugar
How to Make Hummingbird Nectar the Right Way: The Right Sugar and Water Ratio
For preparing Hummingbird Nectar the Right Way:
Gather ingredients including,
Pure Cane Sugar
Warm or Boiling Water
A bowl and Spoon for Mixing.
The Method,
Take a bowl, and pour in 1:3 Cane Sugar and Warm Water.
Give both the ingredients a good mix until they are completely dissolved.
Now allow the Nectar (Sugar and Water) to cool down before you pour it into Hummingbird Feeder.
NOTE: It is mandatory to stick with White Sugar while you are preparing Bird Nectar. Avoid using any sugar substitute, including Brown Sugar, Jaggery, Honey, Artificial Sweetener, etc. While Sugar substitutes are unhealthy for birds, Honey can ferment and make things messy. 
Tips for Feeding Hummingbirds 
Choose a feeder that is easy to clean and maintain.
Choose a feeder that is big enough to feed the bird population in your area. However, if you can add multiple feeders, it would serve the purpose better. More Feeder means more hummers and reduced territorial issues.
Consider changing the nectar every 2 to 4 days. However, if the temperature exceeds 90° F, change it more frequently. During high summer heat and humidity, changing the nectar every single day is advisable. 
Ensure placing the Hummingbird Feeder in a shaded place away from direct sunlight.
Avoid topping off the nectar without cleaning the Feeder in between.
Soak the Feeder in bleaching powder and water solution at least once in a month. Then, if the Feeder is microwave/ dishwasher safe, you can put it directly into the machine for sterilization.
5 Best Hummingbird Feeders 2022
Perky-Pet 203CPBR Pinchwaist Hummingbird Feeder (Functional, Hospitable, Easy to Clean, and Best Overall)
Perky-Pet 203CPBR Pinchwaist Hummingbird Feeder, Red Glass
Easy-to-fill and clean wide-mouth opening
Translucent Red glass bottle attracts hummingbirds
Four flower-shaped feeding ports with removable perches
Protect nectar with built-in ant moat and bee guards
Feeder base comes apart for easy cleaning
Perky-Pet 217 Window Mount Plastic Hummingbird Feeder with Perches (Best for Mounting Directly to the Window)
Perky-Pet 217 Window Mount Plastic Hummingbird Feeder with Perches - 8 oz Outdoor Garden Décor Hummingbird Feeder
Appreciate Birds Up Close – Attach the feeder directly to a window for hours of bird-feeding pleasure from the best seat in your house! It's a great way to unwind after a stressful day
Lifelike Feeding Ports – Three hollyhock-inspired feeding ports are soft and flexible to offer a more natural feeding experience for hummingbirds
Keep Insects Out – The flower-shaped feeding ports have a long, tapered stem to keep bees out of nectar
Easy Mounting – The included suction cup provides a strong, secure hold on windows or hang it from another surface with a nail
Makes A Great Gift – People of all ages will love being able to see and enjoy birds up close
More Birds Bird Health+ Big Gulp Hummingbird Feeder (Best known for its affordability and being sizable)
ZUMMR Hummingbird Ring Feeder (Best Hand handled Feeder)
Hummingbird Feeder 16 oz. Plastic Hummingbird Feeders for Outdoors (Most Affordable and Functional)
Sale
Hummingbird Feeder 16 oz. Plastic Hummingbird Feeders for Outdoors - Humming Bird Feeders - Perch with 10 Feeding Ports - Wide Mouth for Easy Filling/2 Part Base for Easy Cleaning
ATTRACTIVE FEEDER: 16 ounces of nectar in this bright red hummingbird feeder attract multitudes of hummingbirds to your backyard. 10 flower-shaped feeding ports and perches are arranged in a circular manner for several birds to feed simultaneously. Made in the USA.
LEAKPROOF RESERVOIR: The mouth of the reservoir tightly screws onto the base, effectively sealing the bird feeder. After filling the container and screwing it onto the base, flip it over; the feeder will not leak even while upside down.
ERGONOMIC DESIGN: Reservoirs and base made of hard plastic. The wide mouth ensures effortless cleaning and filling. The 2-part base easily twists apart for an effortlessly thorough cleaning job. Hand-wash only [Not dishwasher safe]
CLEAR RESERVOIR: The transparent exterior of the container allows you to monitor nectar levels so you always know when to refill. The wide mouth ensures simple filling and cleaning.
SECURE HANGING: No tools are required! The hummingbird feeder is slipped onto a tree with an s-shaped hook. Hang the feeder from a height of 5 feet above ground. enjoy watching the birdies flock.
Wrapping up…
It may be tempting to use fancy sweeteners and commercial Hummingbird Nectars. However, the most thoughtful step is to prepare your Sugar: Water Nectar using Morena Pure Cane Sugar at home.
Not only is Morena sugar safe, but also healthy for birds, including Hummingbirds. Remember, harmful sugars are disease magnets and therefore using them, you can play with birds' life.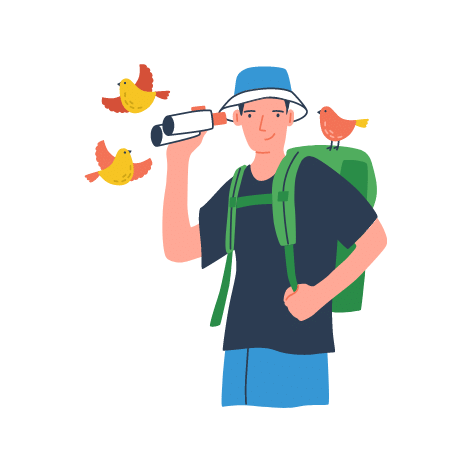 Hi, There and Welcome to BirdsNews.com, is here to help you learn and care about pet birds. and this blog is a journal of everything I've learned.