Chipmunks are shy but you may most likely spot them in various corners of your garden and backyard. Significantly if you have Bird Feeders installed in your house exteriors, you can't really cut down on Chipmunk and Squirrel visits. But are there any tricks for keeping Chipmunks Out Of Shepherd Hooks And Bird Feeders? Well, Yes, quite a few.
12 Ways To Keep Chipmunks out of Shepherd Hooks and Bird Feeders
Keeping Chipmunks and Squirrels out of Bird Feeders isn't impossible but definitely challenging. However, with some simple techniques, success isn't far away.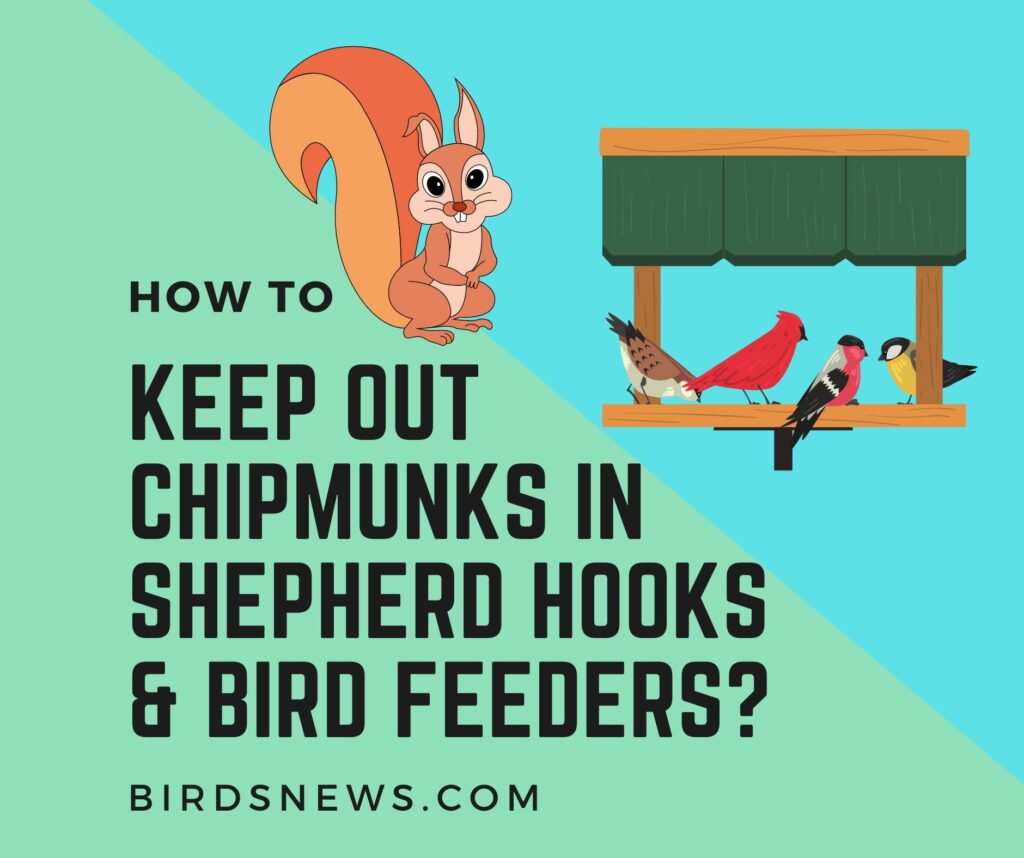 In order to know about them, go through the tips and tricks below:
Firstly, and most importantly, keep the ground underneath the Bird Feeders clean. Most birds are messy eaters, and therefore it is pretty common that seeds will scatter on the ground below. However, if you aren't very attentive to the situation, Chipmunks, Squirrels, and even some large rodents will likely visit your place. Though to get through this, you can either use a Seed Catcher for your Bird Feeder or ensure frequent cleaning of the ground. 
To avoid Chipmunk attacks, consider installing thin, metal poles on the feeders instead of wood ones. Wood posts are easy to climb, whereas metal poles become slippery and do not provide grip.
Install a Baffle to the pole, and it will prevent Chipmunks from reaching up to the bird feeders. Baffles are designed and intended to stop Chipmunks, and they are even exceptionally practical for squirrels too. Go for a wrap-around, and you can find some fine options for the same online. 
Instead of using poles or Shepherd hooks, consider using a strong fishing line for hanging your bird feeders. The fishing line is too thin for squirrels and chipmunks to walk and jump around.
Ensure keeping the shrubs and bushes clean, and it will help you in exposing chipmunk borrows. As said above, Chipmunks are shy, and therefore when exposed, they will likely move to a different place, away from your feeder. 
Try feeding Chipmunks separately from the birds. For example, you can offer them seeds separately, slightly away from the bird feeder.
Ensure storing seeds safely in rodent-proof containers. Better go for metal trash cans or thick plastic tins. Make sure you keep the seal tight and the container in a higher place.
If you are willing for some extra efforts, you can try to trap chipmunks and release them away from your place. Lure chipmunks and squirrels with the help of sunflower seeds. However, remember trapping and releasing isn't a long-term solution.
Follow the 5-7-9 Rule. Wondering what it is? Chipmunks usually can't jump more than 5 feet up from the ground, more than 7 feet across from a tree or building, and 9 feet onto a feeder from above. 90% of Squirrels and Chipmunks can't get over these dimensions, which helps keep them away from the feeder.
Apply something sticky/ slimy to the pole of your Bird Feeder. 
There are some seeds that Chipmunks don't like, for example, Safflower Seeds (do not confuse it with Sunflower Seeds). So feed birds such seeds and keep invaders away.
However, if nothing works for you, you might need to call a Wildlife Removal Expert. These professionals will remove Chipmunks and Squirrels and relocate them to a better and safe place.
Best Chipmunk/ Squirrel Proof Bird Feeders 2022
Droll Yankees YF-M Yankee Flipper Squirrel-Proof Bird Feeder, 17.25″, Green
Droll Yankees Domed Cage Sunflower Seed Bird Feeder
Squirrel Buster Plus Squirrel-proof Bird Feeder w/Cardinal Ring and 6 Feeding Ports
Hanizi Wild Bird Feeders for Outside, Hanging Bird Feeder Squirrel Proof
Squirrel Buster Legacy Squirrel-proof Bird Feeder w/4 Metal Perches
Perky-Pet 8lb Squirrel-Be-Gone II Feeder Home with Chimney
Squirrel Buster Standard Squirrel-proof Bird Feeder w/4 Metal Perches
Are Chipmunks bad to have around?
Chipmunks are undoubtedly cute, but they can damage the ornamental beauty of your garden and backyard. Chipmunks and Squirrels burrow in flower beds and dig up and eat spring flowering bulbs.
They aren't very keen about causing structural damage but might hamper wooden outdoors, especially patios and sidewalks. Therefore, whenever you spot a chipmunk in your garden, make sure you try to deter it as soon as possible.
Do bird feeders attract chipmunks?
Yes, Chipmunks have a strong sense of smell, and following the smell of seeds, they will soon make their way to the bird feeder in your garden. If not with smell, they can come attracted into your garden, observing even a single piece of seed.
What smells do chipmunks hate? What smell repels Chipmunks?
Chipmunks can't handle the strong smell, particularly that of a few things. They do not like the smell odour of garlic, citrus, eucalyptus, cinnamon, eucalyptus, and peppermint.
If you are troubled with Chipmunk/ Squirrel attacks in your garden, you can use the above ingredients to repel them.
Is Vaseline/ Grease toxic to creatures like Chipmunks, squirrels, and Birds?
Vaseline is a fine product for humans (external usage only); however, no human or animal should use it internally. Also, avoid using it around any Chipmunks, Squirrels, and Birds products/ stations.
Vaseline/ Grease, when mixed with seeds and other eatables, can cause unpleasant stomach health. Besides ingesting, products like Vaseline/ Grease can cause physical discomfort upon sticking to animals' tails, hair, and feathers. 
Wrapping up…
In areas with high chipmunk populations, getting completely rid of them is quite difficult. Though by following the above tips and tricks, you can attain a high percentage of benefits. Use some or all of the suggestions above and allow your birds to enjoy their seed quotient all alone. 
We're an affiliate! We may earn a small commission when you make a purchase from product links at no additional cost to you!