Wondering about methods to get rid of Magpies? Magpies are dominant birds, and they can prove a big-time nuisance for your garden. They are a dominant and prominent species and are quite tricky to deter. However, no matter how stubborn Magpies are, there are ways to expel them.
How to effectively scare and deter Magpies away?
It is important to understand what attracts magpies and how you can deter them away. Magpies are crucial wildlife, and therefore it is crucial to keep yourself from harming them. 
The list below includes tips and tricks that will help you in getting rid of Magpies: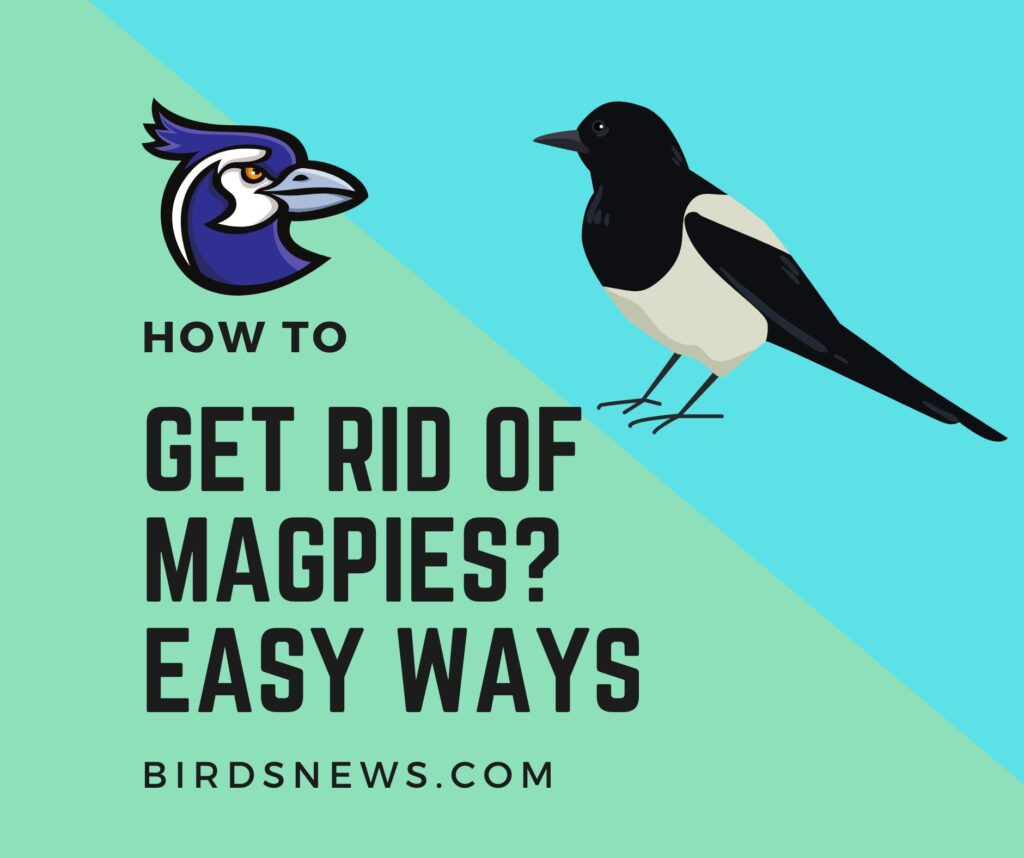 1) Clean Up Your Yard and Trashcan
When you are looking to get rid of Magpies, first avoid attracting them. Magpies and other wild birds are naturally attracted to an untidy yard. They will even show interest in the content of your Trashcan. Therefore, the first step is to make your garden and backyard as clean and as unattractive to Magpies as possible.
Clean all the debris, old toys, trash, leaves, dirt, and worms. 
Pick all the nesting material.
Cover all the trash cans and garbage bags.
Cover your gutters.
2) Remove/ Clean all sources of food and water.
If Magpies are constantly visiting your garden, they must be looking for food. These birds enjoy a morsel of veggies and plants along with bugs, worms, and insects. Besides that, they will also poke their mouth inside human food or commercial pet food.
Therefore, while you are struggling to get rid of Magpies, try removing all food sources from your garden. Make sure you uninstall the bird feeder as well (reinstall it later when the garden is free of Magpies).
Apart from that, consider removing any bird feeder as well. Also, fix any leaking hoses and remove objects that may collect water. 
3) Use Bird Netting
Your fruit and vegetable garden is a buffet for birds like Magpies. And therefore, to deter them, using bird netting is one of the finest and most successful solutions. Through light net protection over your fruit trees, vegetable plants, and even over the leafy greens in your garden. 
4) Use a Scarecrow
Scarecrows are pretty popular old-school tools that help in deterring Magpies away. The only trick is to make them look as real as possible. 
For making a Scarecrow at home,
Take old clothing and stuff it with straw or newspaper. Make sure it takes a shape similar to that of humans (not exactly). Now take an old rack or bag and use a market draw head/ face. Fix all of these together onto a pole and place it in the center of your garden. 
Or, If you aren't able to make a scarecrow, you can purchase one from your local marketplace or online.
TIP: Make sure you keep moving the scarecrow periodically, or the birds will figure out the trick.
5) Hang shiny reflective objects in your garden
Nothing scares Magpies more than shiny and reflective objects. Flashing lights are terrifying to these birds, and therefore it helps in keeping them at bay. 
Either use your old CDs or take some Aluminium foil and hang it in your garden. Make sure you hang them in such a direction where sunlight reflects and creates a reflective illusion.
Instead of CDs, you can also hang bird deterring objects, including pinwheels, scare tape, reflective rods, reflective discs, etc.
6) Use Noise or Recording of Distressed Birds
The recording of Distressed Birds also acts as a decoy for repelling Magpies away. 
Play such recordings at irregular intervals, especially when you encounter Magpies in your garden.
Besides that, you can also use several bird deterring noises available on Youtube.
In addition, you can also tie bells or wind chimes to trees and eaves of the house where Magpies usually land.
The best way to deter any bird, be it Magpies, Sparrow or Parrot, is using a decoy toy. Use owls, hawks, raptors, dogs, or cats decoy and place them in your garden. Place the Decoy either on a tree or rooftop, ensuring it is visible from far away.
TIP: Keep rotating the Decoy and change its position every other day. Remember, birds are intelligent, and they can figure out what's real and what's not. 
8) Install bird spikes in your garden
Bird spikes are a one-stop solution for repelling one and every bird from the garden. Spikes are pointy needles that discourage birds from landing and roosting on your house, trees, or boundary. 
Bird Spikes are easy to install and are fairly unobtrusive. You can attach them to almost any stable surface. 
9) Set up a Motion Activated Sprinkler
If nothing works for you, then set up a Motion Activated Sprinkler in your garden. Magpies do not enjoy getting water on their feather, and you can use this fact as an advantage. A Sprinkler won't just deter birds but will also irrigate your garden for good. 
What are magpies scared of?
Magpie is scared of sunlight reflecting off shiny, metallic surfaces. So, during day hours, they won't even dare to fly close to any building or land that is covered with reflective deterrent on its sides.
Do magpies scare off other birds?
Magpies are considered Bully Birds, and they often swoop in and scare off other birds from the garden. 
What is the predator of a magpie?
A female Sparrowhawk is considered a predator of a Magpie. This is because it can easily take a Magpie, although both can give a tough challenge to each other. 
Is it legal to shoot magpies?
Magpies are protected under the Migratory Bird Treaty Act as migratory nongame birds, and therefore shooting them is illegal. In addition, you can't shoot magpies on public health-safety grounds though some countries allow hunting them under general or special licensing.
Why do I have lots of magpies in my garden?
Magpies are attracted to those gardens that are rich in plants, vegetation, fruits, and water. So they will probably hunt down every possible fruit and vegetable from your garden, destroying your long-term efforts. 
Are magpies aggressive?
Magpies, though, have an aggressive reputation, but the majority of them are not aggressive. Instead, they would show restraint but would less likely cause trouble or show anger.
Wrapping up…
 Magpies have a high tolerance level, and therefore getting rid of them is quite a tricky task. Magpies can adapt to any circumstance or object quickly, and therefore there's no singular method of deterring them. 
While you are on a mission to repel Magpies, make sure to mix up specific techniques and methods. Then, once you figure out what's working for them, use those techniques. 
However, if that's not enough, it may be time to turn to a professional pest control officer or bird keepers. These professionals will help you in deterring Magpies without harming those poor birds.
We're an affiliate! We may earn a small commission when you make a purchase from product links at no additional cost to you!