Before investing in an Ultrasonic Bird Repellent, there are several things to consider.
The list may include the type of repellent, how does it work, how safe it is, which bird it works for, and more.
Though one of the prominent considerations is: Do the Ultrasonic Bird Repellent devices really work?
Though there isn't any scientific-based evidence on the working of Ultrasonic Bird Repellent, these devices still outperform themselves.
Several homeowners across the world have gone crazy behind these devices, considering they provide real-time benefits.
How do Ultrasonic Bird Repellents work?
Ultrasonic Bird Repellent is a device that is designed to play high-pitched sounds through emissions known as Ultrasounds.
Unlike several other bird repelling objects, these devices have a wider range of functioning, thus providing for more real-time results.
A lot of Ultrasonic Bird Repellents are available in the market today. For example,
Ultrasound repellents powered by sonic sound, strobe lights, and distress calls.
Ultrasound repellents powered by  sonic sound, strobe lights, distress calls, and predator calls
The purpose and principle of Ultrasonic Bird Repellent devices are to deter birds from a certain area without actually harming them.
The devices emit high-frequency waves that are unpleasant and irritating to the birds' ears.
It results in them leaving the repellent-treated region within no time.
Benefits of the Ultrasonic Bird Repellents
With the Ultrasonic Bird Repellents ruling the market, they surely come with a lot of benefits.
Here is a list full of benefits one can avail of upon using them (besides deterring birds).
They are a more Humane and Less-harming solution.
Several bird repellents in the market are partially or completely in-humane.
For example, Gel or Paste based bird repellents often tend to stick to bird feathers. This further can affect their flight, result in severe difficulties and even death.
Or the Bird repelling spikes. Though they aren't designed to harm a bird's paw upon landing sidewise, they can actually kill the bird.
However, the Ultrasonic Bird Repellents simply annoy birds resulting in deterring them. It further causes no physical harm to the birds.
Ultrasonic Bird Repellents are devices that work for a longer time than most of the other repellents. Also, they do not use any chemicals that would ruin the property around.
Unlike pastes, gels, and shiny tapes, Ultrasonic Bird Repellent lasts longer and is durable.
They are easy to install and use
All you need to do is simply plant the Ultrasonic Bird Repellent and switch on its operating button.
Several of them work on cellular batteries, while a lot of options come with solar panels as well.
They are harmless to humans, especially kids.
If you have small kids at home, using gel, paste, or spike-based bird repellent might fear you.
Chances are your kids lick the gel accidentally, or pets like dogs and cats lick it.
However, Ultrasonic Bird Repellent does not possess any such danger.
Of Course, Ultrasonic Bird Repellents are expensive, but they also are a long-term investment.
Once brought, they would last with you easily for a few years (considering you invested in a good quality device).
Disadvantages of Ultrasonic Bird Repellents
Along with advantages, these devices do bring along some disadvantages as well. Here are all the details about the same:
They might not work on all the birds.
Before investing in an Ultrasonic Bird Repellent, remember they aren't beneficial for certain birds.
Especially a lot of such devices are worthless on pigeons and owls. However, there are dedicated devices to work on these birds.
Note: The different range of frequency works upon different birds. Hence before you invest, do check about all these considerations.
They might disturb household pets and humans as well
Though generally, the ultrasonic frequency of these devices is audible only to bird ears, some instances may surprise your ears too.
A few cheap devices have sonic frequencies that reach human, dog, cat, and other pet ears disturbing them.
They might trouble your pet birds.
If you have per birds at home, then by no chance think of investing in an Ultrasonic Bird Repellent.
Tips for using the Ultrasonic Bird Repellents in a more successful way
Always install the Ultrasonic Bird Repellent device before the bird season starts.
Keep a regular check on the device, ensuring it is working fine.
Consider using two or more ultrasonic repellents if you have a larger garden backyard (basically home space).
Along with using repellent, always keep your property clean from all food sources and nesting material.
If birds are common and in high numbers in your region, consider using different types of repellents together. For instance, you can plant an Ultrasonic Bird Repellent in your garden and backyard. Though for your patio, consider using shiny tapes and mirror deterrents.
Ultrasonic Birds Repellent Sounds and Voices
Frequently Asked Questions
Do Ultrasonic Bird Repellents work on other animals and pests as well?
Yes, certain brands deal in Ultrasonic Bird Repellents that also deter squirrels, frogs, rats, monkeys, chipmunks, and other common animals.
Are Ultrasonic Bird Repellents illegal?
Yes, there are several parts of the world where using Ultrasonic Bird Repellents is illegal.
Especially if you stay close to a State/ National Park/ Forest and other such natural areas, using such devices might land you into legal trouble. Thus, before investing in one, always check for the laws.
How much does an Ultrasonic Bird Repellent cost?
An Ultrasonic Bird Repellent will cost you anywhere from $30 to $150. The ones with more specifications and a longer warranty might even cost more.
However, you can always find a reliable and durable device for under $100.
Are Solar Powered Ultrasonic Bird Repellents a worthy investment?
Yes, definitely. If your house receives enough sunlight during the day, then do consider investing in Solar Powered Bird Repellents.
This way, you will also provide towards making earth safer and less polluted.
What should I look for before buying an Ultrasonic Bird Repellent?
Here are a few considerations to make before buying an Ultrasonic Bird Repellent:
Make sure the device covers a larger area.
Make sure the device is waterproof, UV safe, and reliable to take several outdoor changes.
Invest in either a battery-powered or solar-powered Ultrasonic Bird Repellent. The one powered by electricity can give you are a hard time planting.
Consider investing in a device that uses more than one technology for deterring birds.
Consider investing in Ultrasonic Bird Repellent that works based on motion sensing.
Before buying a device, make sure it is meant for all birds in one. Several Ultrasonic Bird Repellents do not work on sparrows, pigeons etc.
What are some of the best Ultrasonic Bird Repellents available online?
Here are a few great options for Ultrasonic Bird Repellent. You can find them both offline and online:
Aspectek Upgraded Powerful Yard Sentinel
ZOVENCHI Ultrasonic Bird Repellent
Cleanrth TSBR620 Super Advanced Sonic/Ultrasonic Bird Repeller w/Triple Scan Technology
Bird-X Yard Gard Electronic Animal Repeller
Wrapping up…
Coming towards the end, we agree that Ultrasonic Bird Repellent does work and is really great for that matter. They are by far one of the best bird repellents you can get for your home.
They are a humane device with more real-time working possibilities, thus an ideal choice.
The best part is they are low profile and requires minimal maintenance.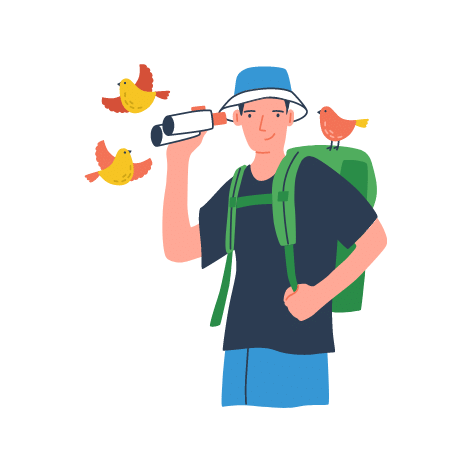 Hi, There and Welcome to BirdsNews.com, is here to help you learn and care about pet birds. and this blog is a journal of everything I've learned.