A Majority of bird owners prefer keeping their birds outside. However, there's a section of bird lovers who find it more convenient to keep the birds outside. But Should we leave the bird cage outside? Is it suitable?
Keeping Birds outside comes with several benefits. The birdy can get enough Vitamin D, experience new sites, scents, and sounds, and breath in freshness all day. In addition, with Bird Cage kept outside, birds can find multiple entertainment routines that will keep them engaged. However, keeping the Bird Cage outside also comes with its fair share of risks.
Placing the Bird Cage outside? Is it Safe?
Placing Bird Cage outside during too hot and cold weather can be a traumatic experience for birds. Ex[posure to natural sunlight, though, is important, but too much exposure can invite pain and trauma.
Therefore, instead of putting the Bird Cage directly under the sunlight during the peak day hours, it is better to do so during the early morning hours. And when the sun is at its hottest of the day, place the cage in a shaded section.
5 Risks Involved in keeping the Bird Cage Outside
Exposure to Extreme Weather
Extreme Weather conditions outdoors can prove detrimental to birds' health. High heat, Teeth Bittering cold, Snowy breeze, Rain, Hail, Lightning, and Sandy wind blow can trouble the poor birds to a great extent. If the birds aren't properly sheltered outside, it will increase the risk of fatal illness. 
High Escaping Risk
Some birds like Parrots are highly intelligent, and when keeping them caged outside, the risk of escaping becomes prominent. Since they can figure out how to open the cage door, you may end up losing your pet. 
Risk of Predators
A caged bird who is kept outside is always at high risk of predators. Animals like dogs, cats, and snakes might easily target them without giving them a chance to escape. 
Risk of Pollutants
The outdoor environment is full of toxins and pollutants. When exposed to the same, birds can develop a serious or fatal reaction. Even the toxins from plants and pesticides can result in making the birds ill.
Risk of Diseases through Pathogens
Infections like a parasite, bacteria, and avian flue are common diseases that birds may encounter when caged outside. However, Pathogens aren't very active indoors, which keeps birds healthy and safe.
Placing the Bird Cage in the Right Place
Housing a bird isn't as hassle-free as it seems. You just can't place the Bird Cage anywhere, indoor or outdoor. Instead, analyzing the location, direction, height, and temperature is extremely important when placing a Bird Cage.
When the bird cage is placed right, it adds to the Bird's daily and better growth. Here are some tips that will help you with Placing the Bird Cage in the Right Place:
Never keep the Bird Cage at the center of a room, patio, or garden. At least one side of the bird cage needs wall support. This will help them to hide while being anxious or scared. 
However, wall support doesn't mean keeping the Bird Cage against a window. 
Never keep the Bird Cage close to the Air conditioner or Heating vents. The rapid temperature changes aren't just difficult to handle but also unhealthy for the poor birdy.
Always keep the Bird Cage slightly higher or equal to your eye level. The cage which is placed too low can scare the Bird, whereas the one which is too high can make them feel isolated. 
Never place the Bird Cage in a forbidden room, garden, patio, or backyard. Likewise, avoid places like the kitchen, bathroom, laundry room, etc. Also, avoid keeping Bird Cage in any empty room where none of the family members ever visit.
Always keep the Bird Cage in a place where human interaction is frequent. Birds, though, do not love noises but they like interaction, and conversation with humans is healthy for them.
Which is the best direction for placing Bird Cage?
According to Vastu (texts on the traditional Indian system of architecture), always place the Bird in the North East Direction of the house. Ensure enough fresh air, natural light, and an open area to have some physical fun. However, for placing an Eagle, go with the area which is facing southwest.
Vastu and Fang Sui (Chinese geomancy) emphasize keeping birds free, not caged. Birds are born to fly and be free, and caging them is extremely inhumane. However, if housing a free bird isn't possible, one must provide them with a huge cage. An insanely huge cage with natural features like flowers, plants, small trees, streams, and artificial water makes the best home to birds. 
How Do You Make Your Bird Comfortable in the Cage?
Life inside a cage can prove traumatic for birds. However, given the cage size and its housing conditions are right, birds would have the most amazing time. Always look through multiple options when buying a cage for your pet bird.
A cage that is airy from all sides and made up of non-toxic material is what one must go for. Always choose the large one, no matter how much you want to go for a small cage. By providing more caged space, you can make sure your pet bird isn't feeling very restricted. 
Also, consider keeping two birds of the same species to keep both of them engaged with each other. 
Should I leave my bird cage open?
Yes, if you are around to monitor, leave your Bird Cage open and allow the Bird to have some outdoor time for mental Stimulation.
However, make sure that the environment is safe, there are no other animals around, and chances of escape are low.
5 Best Bird Cages for Outdoor- 2022
Wonline Iron Birdcages Large Walk-in Bird Cage
Yaheetech 69-Inch Extra Large Bird Cage
Yaheetech 69-Inch Extra Large Bird Cage Metal Parrot Cage for Mid-Sized Parrots Cockatiels Conures Parakeets Lovebirds Budgie Finch, Black
🦚 【Extra-Large Wrought Iron Cage】With a large size of 30.3" L x 18" W x 51.2'' H and a bar spacing of 3/8", this strong wrought iron cage offers a safe and spacious mansion for multiple birds/small animals. The 3-tier design expands the usable area vertically and creates more spaces for pets to climb and explore.
🦚 【Deluxe Cage For Small Animals & Birds】This huge pet cage can accommodate more than five small to medium birds like lovebirds, conures, parakeets, budgies, cockatiels or small animals like sugar gliders, rats, squirrels, etc.
🦚 【Safe & Sweet Home】Every door is secured with locks to make sure your little escape artists stay safely in their home when unattended. Moreover, the bar spacing of 1cm/ 3/8" is decent for small to medium birds or small animals.
🦚 【Solid Metal Cage Construction】The large bird cage is crafted from wrought iron with water- and oxidant-resistant finish for improved strength and high durability.
🦚 【Must-Have Mobility & Added Storage】Benefit from the mobile stand with an open shelf, this extra-large pet cage gains convenient mobility and additional storage space for pet accessories.
VIVOHOME 30 Inch Height Wrought Iron Bird Cage with Rolling Stand 
Sale
VIVOHOME 30 Inch Height Wrought Iron Bird Cage with Rolling Stand for Parrots Conure Lovebird Cockatiel Black
STURDY FRAME - This large birdcage is made of high-quality, low-carbon, rust-proof and waterproof steel, with guaranteed quality and durability; The steel frame is more stable, with 4 caster wheels at the bottom, so you can move it anywhere you like, saving you effort
CONSIDERATE DESIGN - This cage is covered with non-toxic hammer-pattern paint, giving birds a healthier and safer living environment; Designed with a strong base to ensure stability for daily use; A drawer-type sandbox and mesh shelf are added for convenience and accessibility
EASY CLEANING - To clean the bottom of this birdcage, all you need to do is to slide out the bottom tray and wash it off; Additionally, all shelving can be easily removed for easy cleaning, so as to keep a clean and tidy environment as well as keep your pets safe
SAFETY & SECURITY - Our birdcage is made of low-carbon steel, which is rust-proof and water-resistant, and the latches are strong and durable; Steel wires are evenly spaced to ensure safety and meet ornamental value at the same time
ABUNDANT ACCESSORIES - In addition to high-quality steel cages, we also provide you with 2 white plastic food boxes, 2 long wooden sticks
Bosely Standing Wrought Iron Large Bird Cage for Parrot
Sale
Jhsomdr 52 Inch Bird Cage Standing Wrought Iron Large Parrot Bird Cage with Rolling Stand for Parrot Lovebirds Finch Canary,Parakeet Cage,Cockatiels,Pigeons
【Longer Service Life】This bird cage is constructed of premium welded steel with a sleek black hammertone metallic finish, solid structure and quality craftsmanship ensure that it won't easily deform from harsh weather or bird bites, the good quality makes this parrot cage a durable
【Size & Free Accessories】20.5*31*52"(L*W*H). It have complete kit Comes with 4 removable bowls for feeding and 3 solid wood perches for birds to stand and rest,the pull-out trays made of PPC material that is durable and resists corrosion from waste
【Easy Cleaning】A slide-out tray covered with waterproof paint is removable which making cleaning a breeze. A grate between birds and the tray can avoid your pets walking directly on their droppings, which ensures both your pets' hygiene and the tidiness of the cage
【Friendly Design】Four 360° rotating swivel casters allow for easy mobility and the bottom mesh grille helps you store bird food or bird care products
【Customer Service】The packaging includes detailed instructions for the cage. If you have any problems or suggestions about the bird cage, please feel free to contact us, we will reply you in 24 hours Lwayne
PawHut 65″ Large Wooden Vertical Outdoor Aviary Flight House Bird Cage
Sale
PawHut 65" Large Wooden Vertical Outdoor Aviary Flight House Bird Cage With 2 Doors
Ideal and roomy bird house for small birds such as parakeets, finches and others
Solid pine wood construction for years of use and enjoyment
2 different sized door at the front for easy access to the inside area
Water-resistant composite asphalt roof, baseboard and finish to help endure the elements
Overall Dimensions: 24.25"L x 26.25"W x 65"H
Wrapping Up
Keeping the bird cage outdoors comes with its fair share of risks. However, with constant monitoring and some thoughtful steps, you can keep the cage outside yet safe from any dangers.
Locking the Bird inside the cage for long periods can make the poor Bird stressed. No Matter if you are housing the pet inside or outside the house, it is important to give them some play hours outside their enclosure.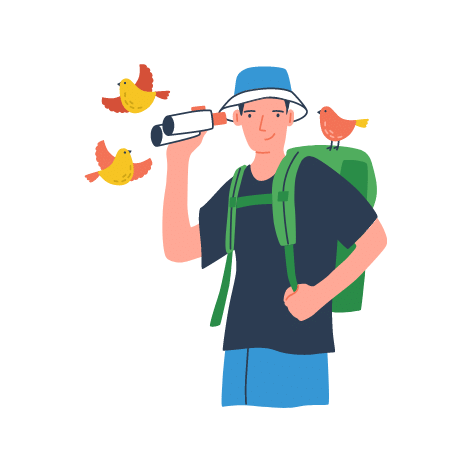 Hi, There and Welcome to BirdsNews.com, is here to help you learn and care about pet birds. and this blog is a journal of everything I've learned.