How do I keep my bird room from smelling? Do birds make the house smell? Birds undoubtedly make lovely pets, but they are no exception, and like any pet, birds can prove stinky. 
Birds are easy to care for, and they aren't as smelly as many other pets. However, due to their poop, your room can have an odd smell that, with time, will start bothering you. Moreover, the smell and odor can become more prominent in rooms with less ventilation. Individuals who aren't quick at cage cleaning would have to deal more with the foul odor. 
Though why worry when we are here? This article is all about fighting odd bird odors and making your house smell good. So, make sure you stick to the end to grab the most out of it.
Why Does My Bird Cage Smell So Bad?
The reason behind a bad-smelling Bird Cage is poor hygiene. Pet owners who are negligent about cleanliness often come across a bad-smelling house. In addition, bird poop and the leftover old food can make the cage and its surroundings smell foul.
Not just that, but some birds smell strongly during the mating season, and it can change the feeling of their cage and surroundings.
5 Ways to deal with Bird Smell
Clean and Maintain the Cage Regularly
Cleaning the Bird Cage regularly is extremely important for the pet, humans, and the environment around.
Therefore, it is essential to clean the cage regularly, which is probably once or twice a week. If you have only one pet bird, go with weekly cleaning. However, if birds are more in number, consider cleaning twice a week.
Cleaning the Bird Cage thoroughly means, 
Removing all the dry and wet waste.
Washing it with soap using hot water.
Sanitizing it.
And lastly, drying the cage.
Encourage the Birds to Bath
Even when the cage is clean, some dirt and debris can still be stuck on the bird's feather, which will eventually result in a false smell. Therefore, it is essential to offer daily baths to your pet birds. However, instead of forcefully pouring or spraying water onto them, encourage them to use a birdbath. Do not use any kind of soap or bathing liquid, and just stick to water.
Bathing not only allows the birds to stay clean and fresh but also improves the shine of their feathers and skin.
Remove the Leftover Food and Water Daily
To avoid any foul smell, it is essential to remove the leftover food and water daily from your bird's cage. Not only does the leftover food will generate an odd smell, but it will also attract insects.
Pay Keen Attention to your Bird's Health
Birds who are sick have a more stinky poop. Or, if they have some underlying problems with their internal organ, the bird might have bad breath. Besides that, some hormonal changes in birds can also lead to bad smells.
Therefore, if even after extreme hygiene maintenance, your pet birds are still smelling bad, it is time to pay attention to their health.
Use a Bird Odour Remover
If none of the above tips are helping you in removing bad bird smell, it is time to use a commercial 'Bird Odour Remover. 
Bird Odour Remover is a deodorizer that helps in controlling foul smells and leaves a pleasant fragrance afterward.
Five Best Bird Odour Remover for 2022
Nature's Miracle Store Stain and Odor Remover
Its pleasant natural smell penetrates to eliminate embedded, strong cage odors. As a result, it won't leave any masking perfumes behind but a calming aromatic fragrance.
Sale
Rocco & Roxie Stain & Odor Eliminator for Strong Odor 
It is a chlorine-free and color-less odor-removing spray that eliminates all the strong/ foul pet smells. Not just that, but it also helps in cleaning hard stains from fabric and other surfaces.
Rocco & Roxie Stain & Odor Eliminator for Strong Odor - Enzyme-Powered Pet Odor Eliminator for Home - Carpet Stain Remover for Cats and Dog Pee - Enzymatic Cat Urine Destroyer - Carpet Cleaner Spray
CERTIFIED GENTLE AND SAFE Chlorine free and color safe. Safe to use around pets and children. No hazardous propellants, no residue left behind. So gentle it's been Certified Safe for all carpets, earning the Seal of Approval by the trusted Carpet and Rug Institute (CRI)
ELIMINATES STAINS, ODORS AND RESIDUE If it's gross, it's gone. Not just the stain, but the stink. From stinky yellow pet urine and feces to vomit and other organic spills, our professional strength formula tackles them all.
EVERY SURFACE, EVERY TIME For use on carpets, floors, furniture, clothing, litter boxes, kennels, carriers, all pet living and sleeping areas—anywhere stains happen.
ENZYME ACTIVATED The key is getting to the problem deep-down. This spray contains natural enzymes that are activated on contact with odors and stains, feeding on ammonia crystals and organic matter until they are completely eliminated.
100% SATISFACTION GUARANTEED An Amazon best seller—for a reason. If your stains and odors aren't gone, neither is your money. We'll refund it in full.
Vergali Nature Fresh Bamboo Charcoal Air Purifying Bags
Bird owners can hang these Bamboo Charcoal air purifying bags indoors, nearby the bird cage. Even without the need for spraying and wiping, these highly porous air purifiers will eliminate odors and purify the air wherever you have musty smells. The best part is that they are pet, kid, and eco-friendly.
Sale
Nature Fresh Bamboo Charcoal Air Purifying Bags 10x100g Set with Hooks-Activated Natural Home Odor Absorber, Deodorizer & Moisture Eliminator. Purifier Bag for Closet, Shoe, Car, large Room. Pet Safe
ELIMINATE ODORS AND PURIFY AIR 🌿 Freshen up your car, home or even shoes with our charcoal bags odor absorbers. These bamboo charcoal air purifying bags act as a natural odor eliminator to remove unwanted smells. Think of your activated bamboo charcoal bags like sponges that absorb odor and freshen the air.
10 BAGS with 10 HOOKS ✨ This set includes 10 Bags and 10 Hooks in a Resealable Bag. A bamboo charcoal air purifying bag can transform the air you breathe. Other activated charcoal bags use low-grade charcoal to save money. Our nature fresh air purifier bags for dust removal will make your shoes, closet and room smell terrific. A good charcole deodorizer is a great odor eliminator for strong odor.
RECHARGE IN THE SUN 🌞 These bags can be reused over and over for up to 2 years. To restore them, simply place them in direct sunlight for 2 hours each month to release the trapped moisture and foul odors. Once they are recharged they will be like new.
SIMPLE & EFFECTIVE ✅ Our activated charcoal odor absorber has more air purifying power compared to other charcoal odor absorbers for home on the market. That means when you buy our activated charcoal bags, you're getting one of natures' most potent and effective charcoal air freshener products. Treat yourself to an activated charcoal odor absorber 10 pack that gets the job done right. Activated bamboo charcoal air purifying bags get rid of foul odors and clean your air!
KID, PET, & ECO-FRIENDLY 🐰 Our charcoal bags are non-toxic and fragrance-free making it a safer alternative to plug-ins, sprays, or balls. The bags are double-layered with the charcoal contained in an inner pocket making extra durable and hard to break. Using bamboo charcoal is more sustainable for the environment and 100% natural and green.
Gonzo Natural Magic Odor Air-Magnet with Activated Charcoal
This air freshener works wonderfully like a sponge and captures unwanted odor, moisture & other harmful pollutants. It is ideal for a 300-square-foot area, and keeping it in a pet room is safe. However, keep the product out of pets' and kids' reach.
Gonzo Natural Magic Odor Air-Magnet with Activated Charcoal - 14 Ounce (2 Pack) - Odor Eliminator for Car Closet Bathroom and Pet Area Captures and Absorbs Smoke Odors
Revive - Works like a sponge to capture & destroy unwanted odor, moisture & other harmful pollutants
Productive - Activated charcoal absorbs, neutralizes & adheres offensive odors to the surface of charcoal
Convenient - Effortlessly freshen your home for up to 60 days to deliver a refreshing, clean smell
Effective - Eliminate unwanted smoke, cooking, urine, paint, mold & auto odors in a 300 square foot area
Recommended - Quickly absorb bacterial odors in pet, kitchen, boat, camper, garage & basement areas
Angry Orange Pet Odor Eliminator for Home 
It has a vital enzyme that effectively breaks smells right down to the protein and ensures that it never returns. The product works excellently for the odor of cats and dogs' pee and thus for bird smell as well. Not only that, but it also works as a carpet and surface cleaner for removing tough pet stains.
Angry Orange Pet Odor Eliminator for Home - 8oz Dog and Cat Urine Smell Remover for Carpet, Grass, Tile and Furniture - Citrus Concentrate, Makes 128oz of Liquid
SEE YA LATER, STENCH - Smells like heaven, works like hell. Use this 8oz bottle of odor eliminator for strong odor that just won't go away! Cat and dog pee won't stand a chance.
DESTROYS AT THE SOURCE - The enzymes in this carpet deodorizer work to effectively break smells right down to the protein, ensuring they don't return. Essential for anyone seeking cat and dog housebreaking supplies!
CONCENTRATED CLEANER - Just add 4 tbsp of this urine odor eliminator into a 32oz bottle of water - trust us, that's all you'll need. Then, just shake it up and spray to your heart's content.
EFFECTIVE EVERYWHERE - While this works great as a carpet cleaner for pets with an overexcited bladder, you can also use it on tile, wood, grass, or wherever your pet does their business (except leather).
LOVELY CITRUS SCENT - Derived from the oils found in orange peels, this enzyme cleaner is pet-friendly, aromatic, and leaves your home smelling like a tropical wonderland.
Making the house smell pleasant with pet Birds around? The DIY Way
If you are skeptical about using a commercial Bird Odor Eliminator, you can go the DIY way. Some commercial deodorizers can prove harsh for birds, and therefore it is better to avoid using them. 
In addition, birds are smell sensitive, and regular air fresheners can lead to respiratory issues amongst them. Instead, consider spraying/ misting undiluted white vinegar in the air.
The smell of vinegar may smell pungent at first, but as it vanishes, the room will start smelling fresh.
Apart from vinegar, you can also mix and spray baking soda, cinnamon, and nutmeg to freshen up the pet room.
Wrapping up…
If you have a house with pets, it is obvious to experience a bad smell. However, that doesn't mean you can't get over it.
Regular cleanliness and some extra efforts are important to make the bird cage and its surroundings smell pleasant. It's recommended to start with a great bird odor remover or go with the DIY way.
However, we would advise you to avoid using aerosol sprays and scented candles as birds are sensitive to chemical odor.
Also, if you follow a daily cleaning schedule, your house won't smell foul, even with multiple animals.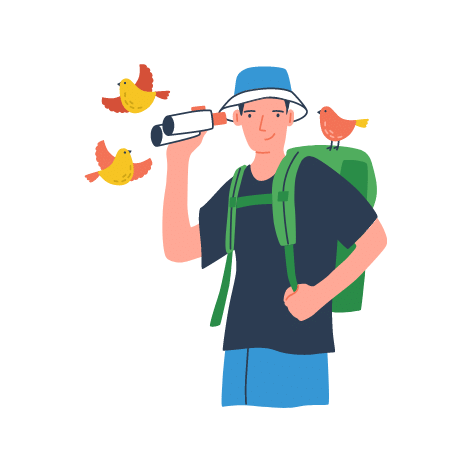 Hi, There and Welcome to BirdsNews.com, is here to help you learn and care about pet birds. and this blog is a journal of everything I've learned.