There are countless birds on the planet but one that has captivated our imagination the most is the Flamingos. But, beyond their beautiful pink plumage and striking appearance is a mystery that has puzzled common peoples' minds for a long: Do Flamingos Sleep Standing Up? Are those Flamingo pictures, standing on one leg and sleeping, true or made up? Come, let's find out.
Known for their enigmatic behavior and captivating looks, Flamingos are one of the most popular birds. These water-based avians have confounded both bird enthusiasts and scientists alike. From serene beaches to lofty mountain terrains, Flamingos display their quirky characteristics in diverse habitats. However, above all, their sleeping habits and pattern remain one of the most intriguing aspects. 
Join us as we discover the Truth and Myth behind Flamingos Sleep Standing Up. We will uncover the reason behind their one-legged perch, which has also been a long-standing quest for ornithologists. The science behind flamingo slumber finally unveils.
Do Flamingos Sleep Standing Up? Truth or Myth?
It isn't any Myth, but Flamingos do sleep Standing Up. In fact, while many animals and birds sleep Standing Up, Flamingos sleep/ rest on one leg. 
Sleeping in a bizarre-looking, Stand Up position is a natural behavior of Flamingos. There's a fascinating aspect behind this behavior, and we will learn it next in the guide.
Why Do Flamingos Sleep Standing Up (on One Leg)?
The peculiar habit of standing on one leg amongst Flamingos has intrigued researchers and bird enthusiasts. Although the position appears seemingly awkward posture, Flamingos are indeed more comfortable when they are standing (or sleeping) on one leg than on both legs. 
The exact reasons why Flamingos sleep standing up aren't very clear, and there are multiple theories behind the same. While some stories suggest that it helps reduce muscle fatigue, others claim that it conserves body heat since Flamingo's legs are a significant area of heat loss. 
Here are some research-based claims as well
According to research conducted at Philadelphia Zoo in Pennsylvania, Flamingos rest by standing for long periods on one leg. Researchers suggest that Flamingos sleep in a stand-up position (one leg) as it helps in reducing muscle fatigue. This physical behavior allows these water birds to move faster (and stay physically alert) if threatened by predators. As per the researchers involved, Flamingos move quicker (with more alertness) in the unipedal (one-legged) position.
Whereas another theory suggests that Flamingos sleep standing up (on one leg) because it helps them maintain their body temperature. Flamingos and birds, in general, typically lose their body heat the most through their legs and feet. However, when they rest or sleep standing up, holding one of their legs closer to their body, Flamingos tend to stay warm. Researchers involved a flock of Flamingos during cooler temperatures preferred standing with one leg on the water, whereas when the temperature was warmer, they stood on two legs.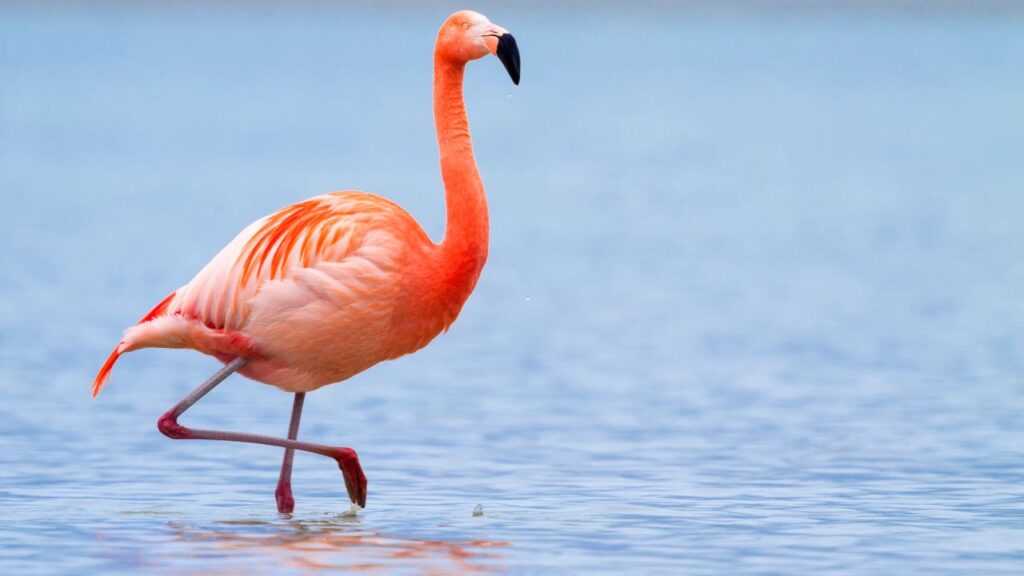 Both claims were published after observing a flock of flamingos in Pennsylvania's Philadelphia Zoo.
However, both theories aren't confirmed by Ornithologists, and there may be some more to the same.
Similarly, another research at Zoo Atlanta in Georgia suggests a different theory. As per the same, Flamingos, when standing on one leg, fall asleep easier. When held up by one leg and then two, these birds sway much less and enjoy better sleep. The research also suggests that Flamingos may have a "locked" resting position that secures them in place while standing on one leg. Sleeping while standing up, that too on one leg, is physiologically and physically easier for Flamingos.
In fact, there are similar claims after research conducted at Birmingham Zoo, Alabama. While the team took two flamingo cadavers (while they weren't alive) and positioned them on one leg, they perfectly struck the balance. 
Another report published by The Royal Society Publishing suggests Flamingos sleep standing up (on one leg) due to the posture engaging a central point of force. Doing so allow them to involve less muscular activity.  
So, Does Flamingos Do Not Prefer Standing On Two Legs?
No, Flamingos can stand on two legs, and they do prefer the same, but not while resting or sleeping. Typically, Flamingos feel more stable and comfortable while standing on one leg, and that's why you would often witness them in a similar position. 
Flamingos stand on two legs during different activities while walking, socializing with others from the flock, and searching for food. 
Flamingos exhibit both bipedal (two-legged) and uni-pedal (one-legged) positions depending on their activities and circumstances.
Do Flamingos Sit? Do Flamingos Ever Lay Down?
Flamingos do not sit in the conventional way like most animals. Flamingos cannot bend their land and sit or lay down like anyone would typically. Their body isn't meant for resting in a horizontal position on the ground. Therefore you would typically observe Flamingos Standing up in both bipedal (two-legged) and uni-pedal (one-legged) positions. 
Do All Birds Sleep Standing Up?
No, like Flamingos, not all birds sleep standing up. Only a few birds can sleep while standing on one leg, but it isn't a universal behavior amongst entire avians. Different bird species have various sleeping habits and postures depending on their anatomy, habitat, and evolutionary adaptations.
Birds like Pigeons and Songbirds roost on perches and trees to sleep. They use their feet to maintain a strong grip. Whereas, Waterfowl birds like Geese and Ducks can sleep floating on water. These birds also sleep on the shoreline. Similarly, owls sleep while lying (hanging) upside down.
Each bird species has its unique way of sleeping that is well-suited to its lifestyle and environment. 
List of Birds Who Can Sleep Standing Up
Cranes, including Whopping and Sandhill 
Storks, including White Storks and Black Storks
Ibises, including Glossy Ibises and White Ibis
Spoonbills, including Roseate Spoonbills
Herons, including Great Blue Herons and Grey Herons
Egrets, including Great Egrets and Snowy Egrets
Rails, including Common Moorhen and Clapper Rail
Jacanas, including Northern Jacana and Wattled Jacana
Wrapping up…
In conclusion, the truth prevails – flamingos do indeed sleep standing up, exhibiting their fascinating one-legged perch. This enigmatic behavior adds to the allure of these graceful birds, leaving us in awe of nature's wonders.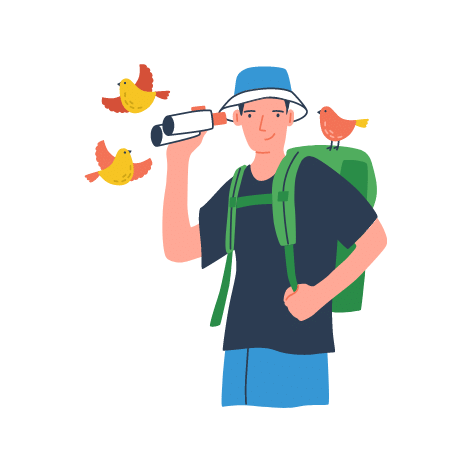 Hi, There and Welcome to BirdsNews.com, is here to help you learn and care about pet birds. and this blog is a journal of everything I've learned.