Frustrated with all the seeds scattered on the grounds below your bird feeder? Bird feeders do help in attracting pretty little birds to your garden, but it also creates a mess at times.
When the wild birds enjoy their mealtime, they tend to be messy in the way that they eat. Seeds and seed shells in your backyard can attract other animals, including squirrels and raccoons, possibly posing many problems. However, there's a solution; wondering what? "A Seed Catcher."
A Seed Catcher attached to the bird feeder helps in managing seed wastage and mess in the garden. It is basically a tray-type device that gathers all the seeds which were meant to fall here and there apart. Not only that, but a Seed Catcher also acts as a secondary feeding platform for birds.
A seed catcher can be purchased commercially, but you can also DIY it. A DIY Bird Feeder Seed Catcher isn't just economical, but it also brings in recyclable materials to use. Here's how you can process for the same.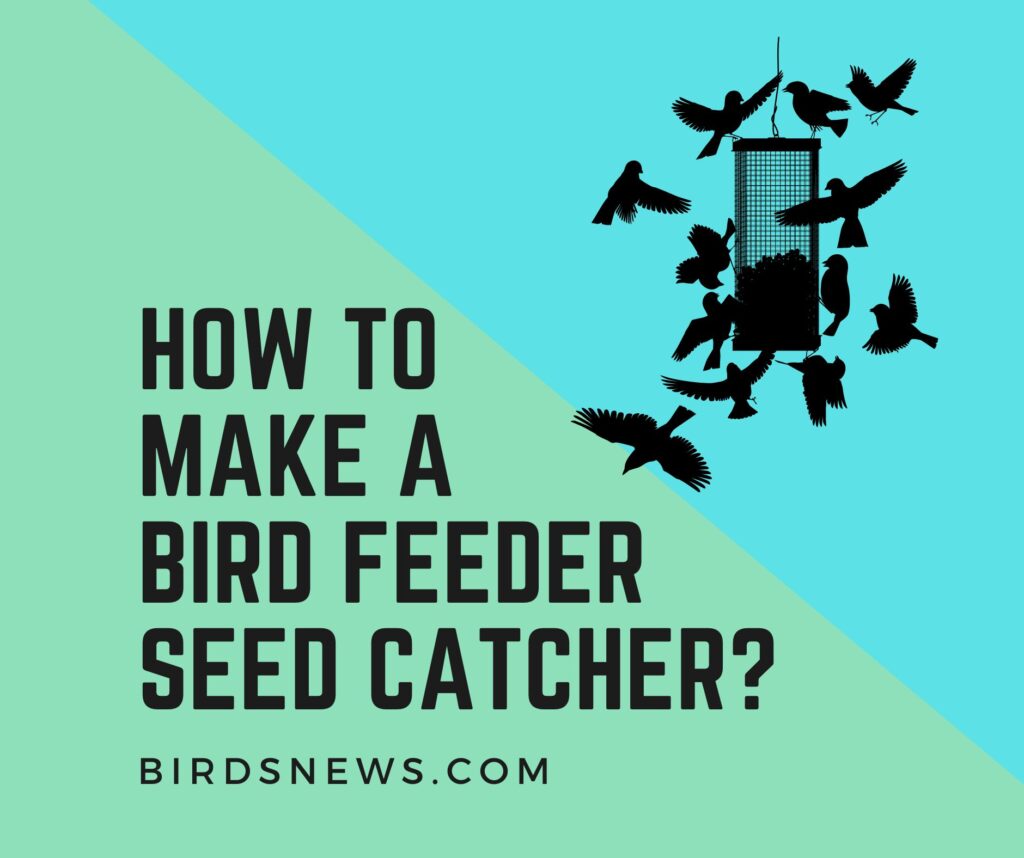 How to make a DIY Seed Catcher at home?
WAY 1: Seed Catcher with an old pan
Things you will need:
A Large Pan (Plastic or Metal)
Shepherds hook
Drill Machine or Something to make holes with
Spray Paint (Optional)
The Procedure:
Take the large pan, cover it with spray paint (if required) and allow it to dry.
Now drill holes in the pan. For doing so, firstly, check on the bottom of the feeder pole and locate any prongs. It will help you mark the correct spot on a point where you want the prong to penetrate. Once you have marked the correct spot, drill the hole precisely. 
Further, place the pan where you want to position it on the ground. Now push the bird feeder pole into the ground through the hole on the pan. If it requires pressure, use a hammer for help.
Lastly, place the feeder and check the effectiveness of your Seed Catcher. Continue cleaning the tray regularly from seeds and debris.
WAY 2: Seed Catcher with Mesh
Things you will need:
Cloth Mesh
Cutter/ Scissors
Hooks
The Procedure:
Cut the Mesh material to suit the size of the bird feeder. Make sure the seed catcher should be larger to catch all the falling and flying seeds from the feeder. Keep the size about 3 to 6 inches, probably larger than the feeder.
Now for connection, use standard bungee cords to attach the rim of the mesh seed catcher to the bird feeder. If necessary, drill the hotel in a bird feeder, or you can also attach hooks. 
Or, run a sturdy-gauge wire from one to the other for a secure fit. Here, go with coated or galvanized wire to keep it safe from rusting.
Lastly, pour a handful of seeds into the seed catcher to ensure if it can take the weight or not.
Why do birds throw seeds out of the feeder?
Birds usually discard the inedible outer hulls and throw them on the ground. Or, at times, some nuisance-causing birds also knock seeds out of the feeder resulting in them being scattered here and there on the ground.
Later, the same bird, however, does not prefer picking those fallen seeds. Therefore, adding a Seed Catcher will help your gather all the fallen seeds and reuse them with the feeder again. 
Do bird seed catchers work?
Yes, Bird feeder seed catchers work by catching tinier food scraps such as seeds and grains. It keeps the seeds from falling into the ground and becoming waste.
5 Best Commercial Bird Seed Cage/Catcher 2022
Innovations America Songbird Essentials 30 in Universal Seed Hoop for Bird Feeders
Songbird SEIA30034 Essentials Seed Hoop
Perfitel Universal Birdcage Cover Seed Catcher Parrot Birdcage Nylon Mesh Guard Netting with lace
Bird Seed Catcher Tray Platform Feeder Hanging Tray Outdoors Backyard Garden
Songbird Essentials 30″ SeedHoop Seed Catcher & Platform Feeder
Sale
Innovations America Songbird Essentials 30 in Universal Seed Hoop for Bird Feeders
Attaches to virtually any bird feeder to catch dropped seeds
Reduces waste and helps eliminate a food source for rodents in your yard
Made of a lightweight exterior grade vinyl coated fiberglass mesh, and lightweight flexible tempered steel wire
Catches seeds that would otherwise fall to the ground, saving you money, and preventing sprouting beneath your bird feeder
Seed hoop also acts as a larger platform feeder that attracts larger birds like cardinals, jays, and juncos that would otherwise avoid your feeder
Sale
Perfitel Universal Birdcage Cover Seed Catcher Parrot Birdcage Nylon Mesh Guard Netting with lace (Not Included Birdcage,1 Piece) (100 x 18 inch, White)…
Size: The maximum use length of the birdcage seed catcher is 100 inches and the width is 18 inches. The length can be adjusted according to the size of the bird cage

Appearance: Sunflower lace and a well-permeable mesh match make the product more in line with your purchase needs

Design: birdcage skirt elastic cord and spring buckle design on both sides of the birdcage skirt makes the installation more convenient and simple

Material: The soft and breathable mesh birdcage net can promote air circulation and will not block the light, so that the inside of your birdcage is kept bright, and the appropriate mesh size can effectively ensure the cleanness of the ground

After-sales service: If you encounter any quality problems after purchasing the product, please contact us in time
Bird Seed Catcher Tray Platform Feeder Hanging Tray Outdoors Backyard Garden (12 3/4")
BIRD SEED CATCHER TRAY: Bird Feeder Hanging Tray, hanging the tray below a small bird feeder and catches most falling seed and husk (bird feeder not included); Also a platform feeder, Seed Tray For Bird Feeders, Great for Attracting Birds Outdoors, Backyard, Garden.
LESS MESS AND MINIMIZING THE WASTE: Keep a generous supply of seed in a clean and organized feeder tray, help reduce seed waste, allow clean bird feeding in your backyard. Protects your yard from weeds and rodents, by catching fallen bird seed before it reaches the ground.
CONSIDERATE DESIGN WITH NO GLISTENING EFFECT CHAINS: Different from other Zinc plated chains seed tray, our bird seed catcher tray design with no reflecting light effect -BIRD FRIENDLY-black chains and "S" hook could fit securely to most small bird feeders.
ALSO A PLATFORM FEEDER: Open hanging platform feeders let you check seed level at glance; three drain holes in base allows the water to easily drain out; not only catches the seeds that were being wasted on the ground, but slowed the rate at which the feeders empty.
NOT DESIGN FOR BIG FEEDERS: Our Small bird seed tray fits for small sized bird feeders. Please check the size before you buy it. Internal diameter(10 1/4") Outside Diameter (12 3/4") Deep (1 3/8").
Wrapping up…
By now, we hope that you have learned to make a Bird feeder seed catcher an easy way. Even though the commercial ones aren't very expensive, you can still try bringing your craft skills to life. 
However, in case you aren't pleased with making some extra effort, you can go with the above Seed catcher recommendations.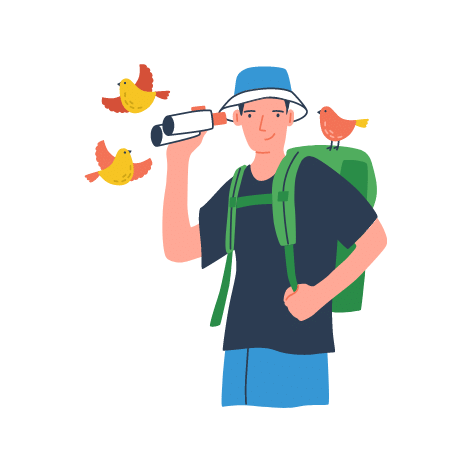 Hi, There and Welcome to BirdsNews.com, is here to help you learn and care about pet birds. and this blog is a journal of everything I've learned.