If you are a bird owner, it is essential for you to ensure an optimal diet for your Birdy. While regular bird feed is commonly taken care of, feeding Cuttlebones to birds is also vital. Recently, a lot of new bird owners are often coming up with the query, "How To Attach Cuttlebone To Cage?"
Attaching Cuttlebones to birds' cages is a practical feeding solution. Cuttlebones are obtained from the internal shells of cuttlefish and act as rich calcium and nutrient sources for birds. Cuttlebones are easily available at pet stores and beaches. However, some bird owners find the task of offering Cuttlebones to their pets tricky. But to help our readers with that, we have how to attach Cuttlebone to a cage effectively and easily. We will also explore various techniques and provide expert tips to help you navigate this process.
Make sure you read the article till the end to get the most out of it.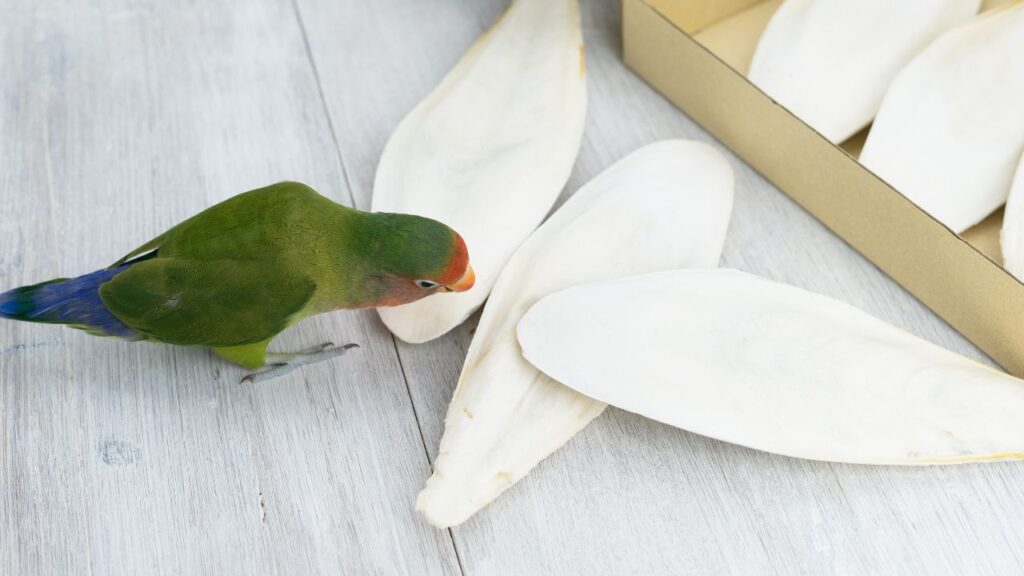 Step-By-Step process of attaching Cuttlebones to Bird Cage
Attaching Cuttlebones to a bird cage is an absolutely simple and straightforward process. Here's a quick step-by-step explanation of the same:
Start by selecting Cuttlebones depending on your birds' species and size/ age. The Cuttlebone should be big enough for the Bird to easily chew on.
Now clean the Cuttlebone. First, rinse the Cuttlebone under tap water and remove any signs of dirt, sand, or debris. Now take a large bowl filled with lukewarm water and let the Cuttlebones soak in it for half an hour. This step will help in loosening all the dirt and debris attached to the Cuttlebones. Now use a soft brush and scrub off all the dirt gently. You may also disinfect the Cuttlebones with an avian-safe disinfectant. Lastly, dry the Cuttlebones nicely before you offer them to the birds.
Next, determine the attachment method that works best for your Bird's cage and comfort. For instance:
Either use a String or twine. All you need to do is cut a piece of bird-safe string/ twine. Make sure it is large enough to tie securely around the Cuttlebone and the cage bars as well. Now take the Cuttlebone and position it against the cage bars. Further, tie the string tightly around the bone and then through the cage bars to secure everything in place.
Or, use a Cuttlebone clamp or holder and attach it to your Bird's cage. Now attach it to the Bird's cage (as explained in its pack/ manual), slide the Cuttlebone into it, and secure it well. 
NOTE: Cleaning Cuttlebones is important for ensuring birds' health and well-being.
The Cuttlebone should be placed somewhere in the cage where the birds can easily access it. The best idea is to place it near perches or feeding areas.Thereafter, it is important to check the Cuttlebone regularly. Since birds will gnaw/ chew it, Cuttlebone will eventually wear down. Or, if it is kept there for long, Cuttlebone may also degrade. In any such case, replace it and make sure the Bird always gets to have fresh Cuttlebones.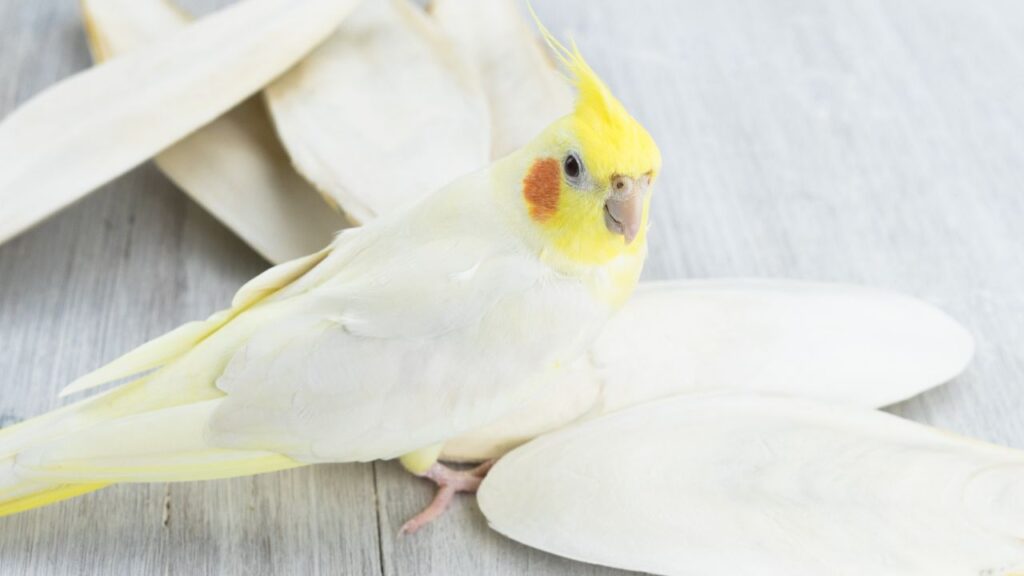 How to make a Cuttlebone Holder at home?
While there are many Cuttlebone Holders available in pet stores and online, making one at home is easy as well. Here's a step-by-step guide that explains making Cuttlebones using zip ties, jute, or fold clips:
Things you will need:
Cuttlebone
Zip ties/ jute/ fold clips (Depending upon how you need to process with the DIY)
Scissors
Pocket knife
The Process:
Firstly, start by preparing the Cuttlebone. Simply take scissors or a pocket knife and cut a hole through the Cuttlebones. Be as gentle as you can since Cuttlebones cannot take excessive pressure and may break down. While a drill can provide a cleaner cut, using it cannot be easy for everyone. 
Now depending upon the attachment:
Take a Zip tie and pass it through the hole in the Cuttlebone. Now attach the same zip tie to the bars of Birds' café and secure it nicely. 
Or, take Jute thread, pass it through the Cuttlebone hole, and then securely tie it around the cage bars.
For large cuttlebones, use fold or bulldog clips for a sturdier fit. Attach the clip to the Cuttlebone and clamp it onto the cage bars.
No matter which method you use, make sure the Cuttlebone holder is firmly attached to the cage bars. The idea is to secure it tightly so that it doesn't easily come loose or fall off during your Bird's interaction.
Following that, always monitor the Cuttlebone (damaged or worn out) and replace it as necessary. 
Cuttlebone Holder for Bird Cage 2023
Sweet Feet and Beak Comfort Grip Safety Perch for Bird Cages - Patented Pumice Perch for Birds to Keep Nails and Beaks in Top Condition - Safe Easy to Install Bird Cage Accessories - X-Small 4.5"
QUALITY & COMFY BIRD PERCHES: One of the lightest perches supplies available in the market yet build with a strong plastic base and materials. Parrots and all other kinds of birds will love.
PROMOTES HEALTHY FEET: We developed pedicure perch which provides a smooth surface for the comfort of tender feet while providing the needed rough surface on the sides for grip keeping nails healthy and trimmed.
SAFE & NON-TOXIC: Safety is a key priority! We work hard to ensure the health and safety of your pets. This product comes with a safety cap to mount perch - no sharp metal hardware will be left sticking out of your cage.
SEVERAL SIZES & COLORS: Our comfy perch stuff includes several sizes and colors. Available in 5 sizes and 3 beautiful colors: XS, Small, Medium, Large, and XL / Blue, Green, and Yellow.
MADE IN THE USA: Sweet Feet & Beak has been a leader in creating the industry's best parrot or bird perches, toys, cage hanging ladder or swings, ropes, and other accessories. All of our products are proudly made in the USA.
Jmxu's 5"-5.5" Bird Cuttlebone for Parakeets, Cuddle Bone with Metal Holder, Chewing Cuttlefish Bone for Sharp Beaks, Natural Birds Calcium Suitable for Parrots Cockatiels Budgie(6 Pack)
【Package Including】: New and old packaging shipped randomly. Pack of 6 cuttlefish bones with aluminum holder, individually packed. Convenient for using and storage. Each Length: about 5"-5.5". Width:1.77"-1.96" Perfect for small to medium birds.
【Cuttlebone Function】:Cuttlebone is an important dietary supplement for birds because it is a great source of necessary minerals and calcium, which helps birds with bone formation and blood clotting. The texture of cuddle bones is relatively soft and easy to bite, the cuttlefish bones maybe easily damaged and broken. But please don't worry, any shreds are edible.
【Natural Chewing Toys】: The cuttlebone has a rough texture, ideal to help support beak strength. Birds can use cuttlebones to keep their beak in tip Top Shape. They are also cage entertainment toys for your pet bird, natural, free of pigment.
【100% Natural Material】:Cuttlefish bones are derived from cuttlefish, definitely not made of cuttlebone powder ! No additives, no bleaching! So maybe have some black spots, no quality issue, no harm for pets birds
【Easy to Install】:The cuttlebone is equipped with aluminum holder that allows you to attach it to any wire surface in your bird's cage.
Sale
JW Cuttlebone Holder
Helps Keep Cuttlebone Debris And Fragments From Falling Outside The Cage
Holds All Cuttlebones
Designed For A Bird'S Well-Being
Suitable For Parakeets, Canaries, Cockatiels And Finches
Assorted color
2pcs Plastic Pet Bird Cuttlebone Holder Food Holder, Cuddle Bone Feeding Racks, Cuttlebone Holder for Cockatiels Parakeets Budgies Finches Green
【APPLICATIONS】This pet bird cuttlebone holder is suitable for parrots, parakeets, budgerigar, cockatiel, lovebirds, finchand etc
【SAFETY MATERIALS】 Pet bird food holder is made of high quality plastic+metal, bitten resistant, solid and durable
【PRODUCT FEATURES】Easy to install,branch shape perch,fruit food can be placed,birds can easily stand
【PACKAGE INCLUDES】2pcs*Bird Cuttlebone Holder
【ABOUT SIZE】It's 11cm/4.3"long and 5.5cm/2.2" in width, lightweight and comes with a small hole, you can use screws to fix the bird cage or other places
How long does Cuttlebone last in the aquarium?
It is recommended not to leave Cuttlebones in the aquarium for more than 3 to 4 weeks. This time frame is good enough to keep the cuttlebones fresh and nutritious. After 3 to 4 weeks, you may start noticing how Cuttlebones break, wear, or deteriorate. In fact, some of them may deter deteriorate even before 4 weeks. 3 weeks are good enough for Cuttlebones to continue to provide a good source of Calcium and minerals for the aquarium inhabitants. However, replace them sooner to maintain optimal calcium availability in the tank.
Always offer fresh cuttlebones on a regular basis. Doing so helps support the health and well-being of the aquarium inhabitants, especially those that rely on Calcium for shell development and overall physiological processes.
Can birds have too many Cuttlebones?
While cuttlebones are a valuable source of Calcium and minerals for birds, sometimes it may become too much. Cuttlebones aren't bird food but a natural dietary supplement. Consuming them in the right amount ensures Calcium and other nutritional balance in birds. However, excessive consumption of cuttlebones can lead to an imbalance in birds' diet and potentially cause health issues.
Here's more about it:
Cuttlebones are simply a supplement that balances birds' diet, but it isn't the primary source of nutrition. Before you offer Cuttlebones to your birds, make sure they have access to fresh fruits, vegetables, grains, and high-quality bird pellets or formulated diets. 
Birds require a calcium-rich diet, and sometimes regular bird feed fails to fulfil the same. However, Cuttlebones, as a dietary supplement, take care of Calcium and other nutrients for birds. Still, excessive amounts of Cuttlebone may result in an imbalance of Calcium levels and other health complications, including kidney issues, egg binding in female birds, or skeletal abnormalities.
If you observe that your Bird is excessively consuming Cuttlebone or neglecting other foods, limit their access to this supplement. Doing so is important to prevent over-consumption. 
If your Bird is consuming too much Cuttlebones, consider consulting an avian veterinarian. The Bird may be suffering from any dietary issues or imbalances that are resulting in this habit. 
Wrapping up…
This was all for "Attaching Cuttlebones to Birds' Cage". We hope the information mentioned above will help you make your and your' Bird's life easier.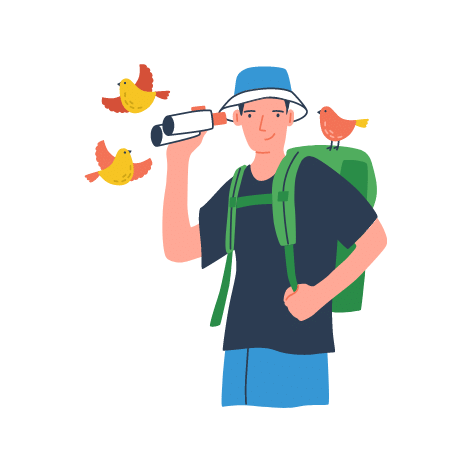 Hi, There and Welcome to BirdsNews.com, is here to help you learn and care about pet birds. and this blog is a journal of everything I've learned.