Suet Cakes for birds provide enhanced nutritional value and are a great alternative to traditional seed offerings. Suet is mostly comprised of hard fat from loins or kidneys of cattle and sheep. It is an ideal bird food offering for the cold weather, though, with thoughtful precautions, it can also go well during summers. 
What kinds of birds eat Suet?
Birds, including starlings, nuthatches, chickadees, jays, and woodpeckers, are particularly fond of Suet. Besides that, birds like cardinals, warblers, creepers, and kinglets may occasionally visit your garden to enjoy Suet. 
Suet is a high-energy food that birds can easily digest and metabolize. Suet cakes usually contain suet fat along with corn meal, peanuts, fruits, and sometimes even dried insects. 
Due to high usage and demand, the market is filled with a variety of Suet Cakes. There are many options, from ones containing the purest fat to Suet that won't melt even during the hottest summer days. However, with so many options comes uninvited confusion. But for simplifying that, here are the Top 8 Suet Cake Options for Birds.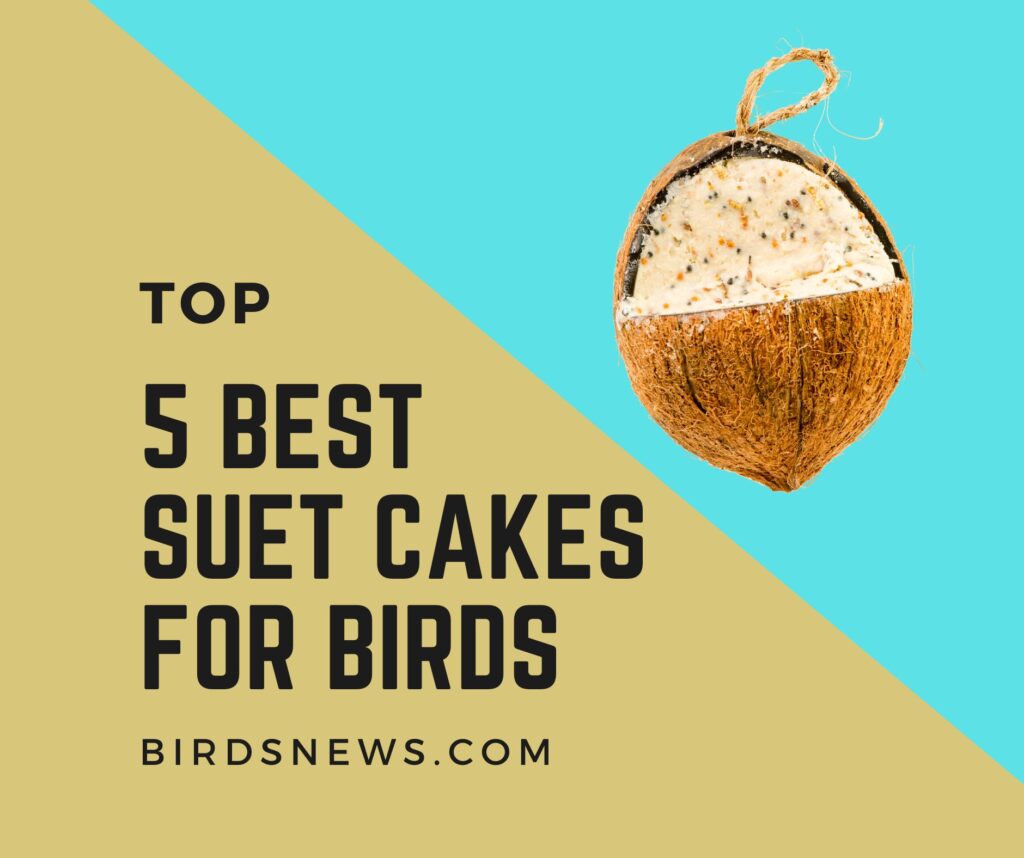 8 Best Suet Cakes for Birds in 2022
Heath Outdoor Products DD4-12 Heath Bird Suet
This high-energy blend is a nutritious mixture of Suet along with corn, millet, milo, and sunflower seeds. It comes under an affordable deal that offers 11.25 Ounces (Pack of 12) under $20.
Heath Outdoor suet is meant for attracting colorful birds, including Woodpeckers, Finches, Siskins, Tanagers, Thrushes, Titmice, Warblers, Chickadees, Goldfinches, Juncos, Kinglets, and more.
The suet cakes stay safe under the plastic container and have a top corner that makes opening it easy and mess-free.
High Energy Suet Cake 10 Pack
This premium quality, melt-resistant suet cake is meant to attract tree-clinging and perching birds.
Its list of ingredients includes Suet fat, Cracked Corn, Black Oil Sunflower, Rendered Beef Suet, and Processed Grain By-Products.
It comes in easy-to-open, melt-resistant, no-messy packaging. Getting the pack of 10 Suet cakes for under $20 is a steal to go with.
St. Albans Bay Suet Plus High Energy Suet Cakes
St. Albans Bay Suet Cakes is a pack of 20 (of 11 oz.) for under $35. It attracts birds, including Juncos, Chickadees, Cardinals, Siskins, Blue Jays, Nuthatches, Titmice, Sparrows, and Woodpeckers.
These cakes are basically a blend of Rendered Beef Suet, Black Oil Sunflower, Processed Grain By-Products, and Cracked Corn. The package comes with a no-messy easy opening and is 100% recyclable. 
Woodpecker Suet Cake 10 Pack for Wild Birds
The Woodpecker Suet Cake is a blend of Rendered Beef Suet, Processed Grain-By Product, Millet, Cracked Corn, Millet, and Pecan Pieces. For under $30, it comes in 10 packs (10.5 oz.). The Suet cake size is well enough to fit perfectly under usual suet cages. For ease of use, the product comes in easy to open and has no messy packaging. Until the cake is inside the package, it will stay fresh without melting unnecessarily. 
C&S 100214335 11 Ounces, 12 Pack Woodpecker Treat
The C&S 100214335 Woodpecker treat is specially made for use with suet cake feeders. It is made up of rendered beef suet, roasted peanuts, oats, almonds, corn, walnuts, and pecans.
These Suet cakes are ideal for various types of wild birds and suitable for year-round usage. For easy removal of Suet cakes from the plastic packaging, always keep the product inside a refrigerator. However, during winters, you can keep it outside in a cool and dry place as well.
Heath Outdoor Products DD-28 Pomegranate Seasonal Blend 11-1/4-Ounce Suet Cake
Heath Outdoor is another no-melt all-season Suet cake for your visiting birds. This high-energy treat, though, contains rendered beef suet and has a distinctive taste to it. The particular product comes in pomegranate flavor, but it is also available in Blueberry, Cherry, and Apple flavors. For just $17, it offers 12 cakes in total. 
Wildlife Sciences Suet Plus Variety
Wildlife Sciences offers 6 Assorted 11 oz. Suet Cakes for $19. It, though, is comparatively more expensive than its counterparts, but investing in it is totally worth it. All 6 packs come in different flavors, including Apple snacks, Zesty orange, Nuts & Berry, Woodpecker Blend, Cheery crunch, and Peanut Blend.
This superior melt-resistant formula, though, has a base of Rendered Beef Suet, Cracked Corn, Millet, Processed Grain By-Product, along with Pecan and Peanut Pieces. The product is meant for attracting Chickadees, Cardinals, Titmice, Sparrows, Woodpeckers, Blue Jays, Siskins, Nuthatches, and other tree clinging and perching birds.
National Audubon Society Signature Harvest Suet
This Easy to open and use Suet cake is the signature product of the National Audubon Society. It comes in Berry flavor and is meant to attract both local and wild birds. The Suet cake has a melt-resistant formula that comes inside a no-mess wrapper. To bring it out easily, consider storing the package inside the refrigerator, especially during the summer.
Suet Cakes Buying Guide 2022
If you are a first-time Suet Cake Buyer, it is important to know about the necessary product factors. Here are some of the considerations you might want to bring to the notice. Have a look:
Suet, though, is mainly consumed by birds during winters, but lately, it has become a summer product as well. While all Suet cakes are fine for winters, only a certain of them stay fresh and stiff during summers. If you are buying Suet cakes during summer, go for the one that says 'Non-Melting'. Different Suet cakes melt at different temperatures, and therefore considering the weather, choose one accordingly. 
Suet is a fatty treat that can lure birds quite efficiently. However, if the birds in your garden don't like the ordinary Suet cakes, go with the flavoured ones. It may come in different flavors, including Nut, Pepper, Seed, Peanut, Fruit, Insect, etc.
While buying a Suet cake, make sure it will fit into the feeder type you own. The market is full of various Suet feeders. Choose one that can fit the cake efficiently, is easy to access (does not bother bird's beak), and be hung from birds feeding station poles.
How to make Suet Cakes for Birds at Home?
If you are sceptical about ready-made Suet Cakes, you can also prepare one at home. For doing so, you will need:
Animal fat
Flavors and Ingredients like Dried/ Fresh fruits, Peanut Butter, Seeds, Pecan, etc.
Cheesecloth/ Fine-Mesh Strainer
Meat Grinder/ Sharp Knife
A Saucepan
Wooden Spoon/ Spatula
A bowl
The procedure:
Firstly, take animal fat, chop it into pieces and run it through the meat grinder. The idea is to remove all traces of bone, meat, and other particles, ideally to separate the fat content. 
Now take a saucepan and heat the chopped fat on low heat. Make sure you heat it a little until the fat fully transforms into liquid. Stir the fat continuously to avoid burning, though keep the flame low, or the fat will begin burning. 
Next, using a fine-mesh strainer/ cheesecloth, separate contaminants/ particles from fat. The process may require multiple strainings, and to keep the fat in a liquid state, you might need to reheat it in between.
Optional: If needed, you can add different flavors and ingredients to enhance the product.
Lastly, take a mold, pour the Suet, and allow it to form solid blocks.
Additional Note: You can keep these suet cakes or extra Suet frozen for the next six months. 
Frequently Asked Questions
Is Suet Cake healthy for birds?
Suet Cakes are technically healthy for birds, but they aren't the only food source to consider. Therefore, it is necessary to offer seeds, fruits, nectar, and different variety of food items to the birds. This will not only ensure healthy growth amongst them but will also make the birds come back time and again.
How often should you change suet cakes?
In a small yard with fewer birds, replace Suet cakes every 2 to 3 weeks. However, if it is the summer season, you might need to replace the Suet cake more frequently, every week, or even multiple times a week. 
Why don't birds come to my suet feeder?
If birds aren't coming to your Suet feeder, you have possibly hung it at the wrong height. Feeders that are too high or too low making it difficult for the birds to reach. 
Do suet cakes melt?
Yes, on hot summer days, many Suet cakes melt. However, today there are multiple Suet cakes available in the market that doesn't drip or melt in summer. 
Should I feed Suet to birds year-round?
Though Suet can be fed year-round, it is majorly a nutritional source for winters. 
Wrapping up…
Suet Cakes are essential nutritional supplements for birds, and it is crucial not to skip them. We hope the above 8 Suet Cakes will help you in making a thoughtful choice. 
We're an affiliate! We may earn a small commission when you make a purchase from product links at no additional cost to you!