Bird photography is a popular activity amongst Avian enthusiasts. While some of them observe birds with their eyes, others prefer capturing them through their lens. 
Bird photography, though, seems like a straightforward game, but in reality, it isn't. Choosing the perfect camera with the right lens, manageable weight, and which can deliver truly magnificent photographs is really important.
The right kind of camera helps in composing stunning images with the right light. The best technology for bird photography is Rapid focusing since avians are extra energetic and active throughout their daily routine. 
If you're curious to know which is the best Camera for Bird Photography, the article below will help you. 
5 Best Camera For Bird Photography In 2022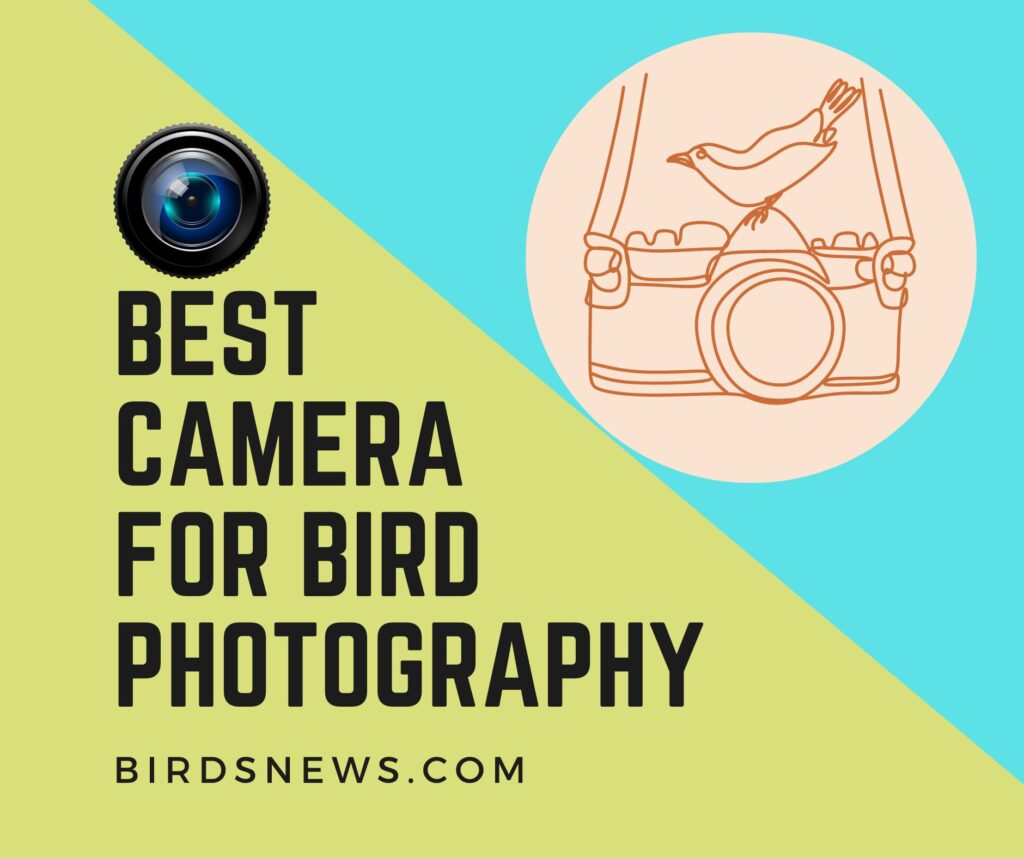 Canon EOS R7
The Canon EOS R7 is a great option for enthusiasts new to Bird Photography. Its 32.5MP APS-C sensor provides high resolution.
Further, the 1.6x crop factor allows buyers to save money on telephoto lenses. It provides an ideal range for bird photography.
Users can increase it to 126 frames or keep it to as low as 30 frames per second.
Canon EOS R7 is a mirrorless option with excellent automatic subject detection that aids in focusing on even the smallest detail.
This well-rounded camera has multiple great features under an affordable price range.
Canon EOS R7 RF-S18-150mm F3.5-6.3 is STM Lens Kit, Mirrorless Vlogging Camera, 32.5 MP Image Quality, 4K 60p Video, DIGIC X Image Processor, Dual Pixel CMOS AF, Subject Detection, Content Creators
Newly developed High Image Quality 32.5 megapixels APS-C sized CMOS sensor
DIGIC X Image Processor with a native ISO range of 100-32000, expandable to 51200(1)
Dual Pixel CMOS AF II covering approximately 100% width and height(2) with up to 651 zones down to EV -5.0.
High speed shooting 15fps mechanical(3,4), 30fps high speed electronic shutter(4,5) and RAW Burst Mode with ½ second pre-shooting.
Subject tracking inherited from the R3 with people, animal(6), and vehicle detection
Nikon Z9
The Nikon Z9 is a professional-level camera that offers excellent autofocus, fast burst speeds, and high buffer capacity.
It has a DSLR-like ergonomic body with an integrated vertical grip that stays comfortable while handling.
Ideal for bird photographing, the Nikon Z9 stays silent while shooting.
The absence of a mechanical shutter freed up space but allowed it for a dedicated sensor shield.
In addition, professional photographers appreciate the product due to its higher resolution.
Sale
Nikon Z 9 FX-Format Mirrorless Camera Body
45.7MP Stacked CMOS sensor and EXPEED 7 image processing. Fast powerful AF that can keep up with the fastest subjects and frame rates.
Subject detection uses deep learning to automatically detect and track people, cats, dogs, birds, cars, motorcycles, bicycles, trains and planes in still and video with no menu changes.
Capture 45.7MP stills at 20 or 30 fps; 120 fps stills at 11MP, all with full AF and AE, and no viewfinder blackout. 8K/30p video capture in-camera for over 2 hours recording time. 4K 120p slow motion video capture.
10-bit 4K/30p from oversampled 8K, recorded in-camera as ProRes 422 HQ or H.265 video.
New high-efficiency RAW file format is 1/3 the size of uncompressed RAW while retaining the same high image quality and dynamic range as conventional RAW files.
Sony a7 IV
Sony a7 IV is an impressive camera device for both photos and videos.
With class-leading autofocus, keep the focus on your subject no matter where they move.
Furthermore, this Sony camera is customizable with various controls of your choosing.
Multiple buttons on the device allow users to tailor according to the photography style.
In addition, its buffer capacity is 828 raw frames which are good enough for any situation.
GoPro HERO10 Black
The GoPro HERO10 is another brilliant device if you are looking for a camera for a bird feeder.
Its major specification includes Exemplified imagery that brings out perfect shots with depicted visual attributes.
Pro-class dim-light execution allows for capturing the best shots, even in low-light conditions.
It can capture crucial moments at a burst rate of 60 frames per second without missing any fleeting moments.
In addition, GoPro HERO10's magnetic properties allow photographers to capture occurrences without fear.
However, the only drawback with this device is that its battery drops drastically.
Sale
GoPro HERO10 Black - Waterproof Action Camera with Front LCD and Touch Rear Screens, 5.3K60 Ultra HD Video, 23MP Photos, 1080p Live Streaming, Webcam, Stabilization
Revolutionary Processor: Faster. Smoother. Better. The powerful new GP2 engine changes the game—snappy performance, responsive touch controls and double the frame rate for amazingly smooth footage. Designed specifically for the demanding nature of the GoPro, the GP2 "system on a chip" is by far our fastest ever.
High-Res Photos plus Videos, High Frame Rate: Step up to the sharpest-shooting GoPro ever. Upgraded to incredible 23MP photos and 5.3K video resolution at 60fps, HERO10 offers double the frame rate for amazingly smooth motion. Plus, there's 8x slo-mo at 2.7K and you can pause videos and grab 15.8MP still photos from 5.3K video that look amazing.
Unbelievable Image Quality: Shoot with fine detail, realistic textures and stunning contrast, even in low light. Images look their best thanks to a new water-shedding hydrophobic lens cover that repels water while helping to eliminate lens flare and other artifacts.
HyperSmooth 4.0: HyperSmooth has never been smoother, and it's easy to dial in the best stabilization at all times. Plus, get even better low-light performance and horizon leveling with a higher tilt limit, so your footage looks perfectly straight when you want it.
Fast, Reliable Connectivity: Super easy, super fast. Transferring photos and videos from your cloud-connected GoPro to your phone is simple and versatile, with your choice of effortless wireless upload via the Quik app or a lightning-fast wired connection via USB. There's also unlimited cloud storage with hassle-free auto upload. Just plug in your camera when connected to your home Wi-Fi and the camera does the rest.
Panasonic LUMIX FZ80 4K Digital Camera
The Panasonic LUMIX has a pocket-oriented design with a lens that only expands to a certain extent.
However, despite its size, the camera captures some fantastic shots undeniably. It comes with a handgrip and a knapsack, increasing comfort while being handheld.
Besides that, its Vari-angle touch screen allows for capturing birds from different angles (even unusual ones).
It also offers some excellent 4K readability. No matter the light conditions, the results will come out perfect every time. 
Sale
Panasonic LUMIX FZ80 4K Digital Camera, 18.1 Megapixel Video Camera, 60X Zoom DC VARIO 20-1200mm Lens, F2.8-5.9 Aperture, Power O.I.S. Stabilization, Touch Enabled 3-Inch LCD, Wi-Fi, DC-FZ80K (Black)
Point and Shoot Long Zoom Camera: 18.1 megapixel MOS sensor plus 60X zooms DC Vario lens (20 1220 millimeter and Power O.I.S. (Optical Image Stabilizer) captures far off moments
High Resolution View Finder and LCD Display: High resolution 1,170K dot view finder and rear touch enabled 3 inch LCD Display (1040 dots) are clear even in bright sunlight. Lens:14 elements in 12 groups
4K video Capture: 4K QFHD video recording (3840 x 2160) with three unique 4K ultra HD video pause and save 4K photo modes extracts individual high resolution Photos from 4K ultra HD video filmed at 30 frames per second to capture split second moments
Low Light Performance: Low light capture lets you enjoy photography during your nightlife again with impressive results; Note: Refer to user manual PDF attached below in technical specification for trouble shooting steps are on page 54
USB Charging and Wi-Fi Connectivity: Enjoy travel ready technologies like USB charging and Wi Fi connectivity to your mobile device; HDMI D (Micro), Micro USB and USB 2.0 provide additional connectivity to your favorite devices; Max resolution: 4896 x 3672
Is Bird Photography different from regular Wildlife Photography?
Yes, Bird Photography is way too different from Wildlife Photography since it requires a more nuanced set of skills. Birds aren't unlike other creatures, and they are often on the go.
Photographers who are focusing on birds from their cameras must first get used to tracking objects via a viewfinder.
Another essential skill to learn is altering the manual camera settings since conditions in a real-time environment can change rapidly. 
Bird photography requires a more focused camera, a fast shutter speed, and balancing the ISO and aperture settings.
How much does a Camera for Bird Photography cost?
A professional Bird Photography camera may cost between $800 to $8000. Of course, cameras with more basic specs are affordable.
At the same time, the ones with advanced technologies and the latest features cost more. 
If you are a hobbyist, you can go for a cheaper camera with an expensive lens.
However, if you are a professional Bird Photographer, it is better to invest in a high-end camera and lens, considering you will get better results through the same.
Are lenses important In Bird Camera?
Yes, lenses are as important as having a good camera. Quality lenses that have a good zoom, quality glass, and are durable are essential for your camera.
Notably, the zoom quality of any lens can make or break the picture. The cheaper lens will probably make the photograph granny at the lower zoom. 
When deciding lens for your Bird Photography camera, make sure it offers a focal length of at least 300mm.
What is a good shutter speed for birds?
The general shutter speed for birds must be at least 1/1000. For low light and slower objects, the shutter speed of 1/1600 or 1/1250 if necessary. However, if the light allows, the shutter speed can go as high as 1/2500, 1/3200, or even more.
How vital are Megapixels in Bird Photography?
For the last few decades, the camera industry has lured people in the name of 'Megapixel'. Until a few years back, 8 Megapixels used to be one of the highest and most commonly used pixels in many mobile cameras or cameras in general.
But lately, mobile phones and regular cameras have touched the mark of 40 plus Megapixels. But are Megapixels really important for a good quality photograph?
Well, Megapixels are essential but not the only significant factor that influences your photography outcome. Therefore, it isn't a wise decision to chase this factor and leave other vital features behind. 
For Bird photography, if you are concerned about only posting online, 15 to 20 megapixels are plenty. However, if your goal is to enjoy printing large, crop images, or get into editing, go for higher megapixels.
Wrapping up…
Bird Photography has unique requirements for the camera. If you are an amateur and just beginning with the hobby, go with the camera that is light, easy to handle, and can teach you the skills. However, if you are old in the game, you might need to look for some specific features and specs.
While looking for the best Bird Photography camera, take recommendations from fellow enthusiasts. You can even invest in a refurbished camera from a professional. This way, not only will you save a good amount of money, but you can also get your hands on a perfectly chosen device.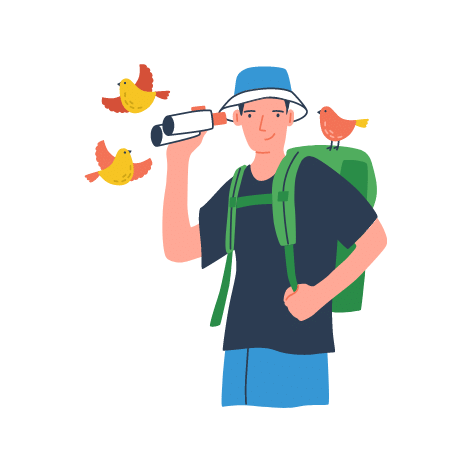 Hi, There and Welcome to BirdsNews.com, is here to help you learn and care about pet birds. and this blog is a journal of everything I've learned.