Bird photography is a popular activity amongst Avian enthusiasts. While some of them observe birds with their eyes, others prefer capturing them through their lens. 
Bird photography, though, seems like a straightforward game, but in reality, it isn't. Choosing the perfect camera with the right lens, manageable weight, and which can deliver truly magnificent photographs is really important.
The right kind of camera helps in composing stunning images with the right light. The best technology for bird photography is Rapid focusing since avians are extra energetic and active throughout their daily routine. 
If you're curious to know which is the best Camera for Bird Photography, the article below will help you. 
5 Best Camera For Bird Photography In 2022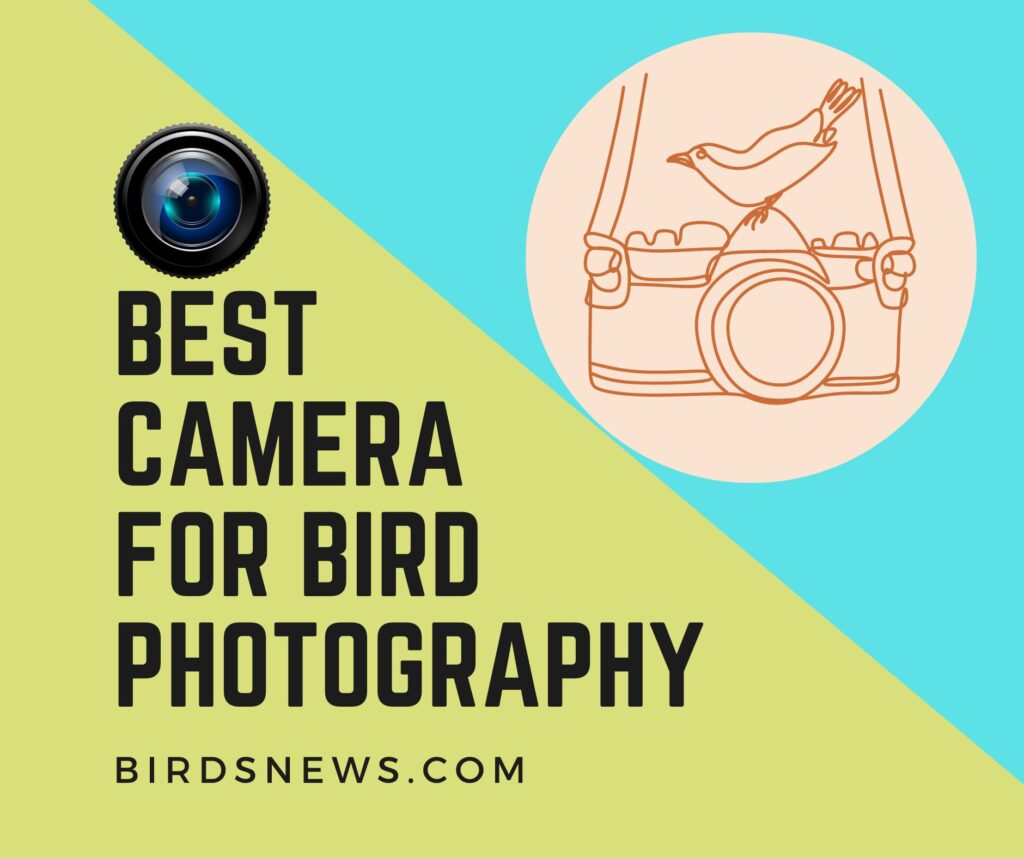 Canon EOS R7
The Canon EOS R7 is a great option for enthusiasts new to Bird Photography. Its 32.5MP APS-C sensor provides high resolution.
Further, the 1.6x crop factor allows buyers to save money on telephoto lenses. It provides an ideal range for bird photography.
Users can increase it to 126 frames or keep it to as low as 30 frames per second.
Canon EOS R7 is a mirrorless option with excellent automatic subject detection that aids in focusing on even the smallest detail.
This well-rounded camera has multiple great features under an affordable price range.
Nikon Z9
The Nikon Z9 is a professional-level camera that offers excellent autofocus, fast burst speeds, and high buffer capacity.
It has a DSLR-like ergonomic body with an integrated vertical grip that stays comfortable while handling.
Ideal for bird photographing, the Nikon Z9 stays silent while shooting.
The absence of a mechanical shutter freed up space but allowed it for a dedicated sensor shield.
In addition, professional photographers appreciate the product due to its higher resolution.
Sony a7 IV
Sony a7 IV is an impressive camera device for both photos and videos.
With class-leading autofocus, keep the focus on your subject no matter where they move.
Furthermore, this Sony camera is customizable with various controls of your choosing.
Multiple buttons on the device allow users to tailor according to the photography style.
In addition, its buffer capacity is 828 raw frames which are good enough for any situation.
GoPro HERO10 Black
The GoPro HERO10 is another brilliant device if you are looking for a camera for a bird feeder.
Its major specification includes Exemplified imagery that brings out perfect shots with depicted visual attributes.
Pro-class dim-light execution allows for capturing the best shots, even in low-light conditions.
It can capture crucial moments at a burst rate of 60 frames per second without missing any fleeting moments.
In addition, GoPro HERO10's magnetic properties allow photographers to capture occurrences without fear.
However, the only drawback with this device is that its battery drops drastically.
Panasonic LUMIX FZ80 4K Digital Camera
The Panasonic LUMIX has a pocket-oriented design with a lens that only expands to a certain extent.
However, despite its size, the camera captures some fantastic shots undeniably. It comes with a handgrip and a knapsack, increasing comfort while being handheld.
Besides that, its Vari-angle touch screen allows for capturing birds from different angles (even unusual ones).
It also offers some excellent 4K readability. No matter the light conditions, the results will come out perfect every time. 
Is Bird Photography different from regular Wildlife Photography?
Yes, Bird Photography is way too different from Wildlife Photography since it requires a more nuanced set of skills. Birds aren't unlike other creatures, and they are often on the go.
Photographers who are focusing on birds from their cameras must first get used to tracking objects via a viewfinder.
Another essential skill to learn is altering the manual camera settings since conditions in a real-time environment can change rapidly. 
Bird photography requires a more focused camera, a fast shutter speed, and balancing the ISO and aperture settings.
How much does a Camera for Bird Photography cost?
A professional Bird Photography camera may cost between $800 to $8000. Of course, cameras with more basic specs are affordable.
At the same time, the ones with advanced technologies and the latest features cost more. 
If you are a hobbyist, you can go for a cheaper camera with an expensive lens.
However, if you are a professional Bird Photographer, it is better to invest in a high-end camera and lens, considering you will get better results through the same.
Are lenses important In Bird Camera?
Yes, lenses are as important as having a good camera. Quality lenses that have a good zoom, quality glass, and are durable are essential for your camera.
Notably, the zoom quality of any lens can make or break the picture. The cheaper lens will probably make the photograph granny at the lower zoom. 
When deciding lens for your Bird Photography camera, make sure it offers a focal length of at least 300mm.
What is a good shutter speed for birds?
The general shutter speed for birds must be at least 1/1000. For low light and slower objects, the shutter speed of 1/1600 or 1/1250 if necessary. However, if the light allows, the shutter speed can go as high as 1/2500, 1/3200, or even more.
How vital are Megapixels in Bird Photography?
For the last few decades, the camera industry has lured people in the name of 'Megapixel'. Until a few years back, 8 Megapixels used to be one of the highest and most commonly used pixels in many mobile cameras or cameras in general.
But lately, mobile phones and regular cameras have touched the mark of 40 plus Megapixels. But are Megapixels really important for a good quality photograph?
Well, Megapixels are essential but not the only significant factor that influences your photography outcome. Therefore, it isn't a wise decision to chase this factor and leave other vital features behind. 
For Bird photography, if you are concerned about only posting online, 15 to 20 megapixels are plenty. However, if your goal is to enjoy printing large, crop images, or get into editing, go for higher megapixels.
Wrapping up…
Bird Photography has unique requirements for the camera. If you are an amateur and just beginning with the hobby, go with the camera that is light, easy to handle, and can teach you the skills. However, if you are old in the game, you might need to look for some specific features and specs.
While looking for the best Bird Photography camera, take recommendations from fellow enthusiasts. You can even invest in a refurbished camera from a professional. This way, not only will you save a good amount of money, but you can also get your hands on a perfectly chosen device. 
We're an affiliate! We may earn a small commission when you make a purchase from product links at no additional cost to you!